Changes to Visitor Services due to Budget Cuts

Due to mandatory, across-the-board budget cuts, some visitor services here at Pea Ridge National Military Park have changed. Please check the Plan Your Visit section for more information. More »
The Human Cost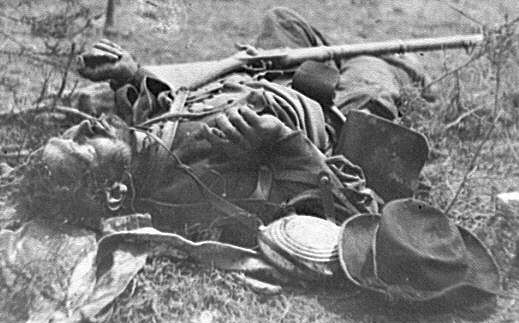 Photo:  National Archives
"The scene is silent and sad. The vulture and the wolf have now the dominion and the dead friends and foes sleep in the same lonely graves."
General Samuel R. Curtis
The Army of the Southwest lost 1,384 men at Pea Ridge – 203 killed, 980 wounded (of whom 150 later died) and 201 missing (presumably captured). Nearly half of the Federal casualties came from Carr's hard-fighting 4th Division.
The Army of the West lost hundreds of men to straggling and desertion during the campaign, especially during the retreat to Van Buren. The best estimate is that Van Dorn lost approximately 2,000 men in the battle, including 500 taken prisoner.
Did You Know?

When Confederate General Van Dorn heard news that Curtis pushed Price out of Missouri, he set out to take personal charge of an attack on Curtis, along with Price and McCulloch. He arrived at Price's headquarters in an ambulance, braving a severe illness resulting from falling into an icy stream.