Horse Trail Closures

A section of the horse trail is CLOSED due to contract work. Contact park staff for more information.
Closure of Detached Area/Stop #11

Until further notice, Stop 11, also known as the Detached Area, is closed due to weather damage.
Stop 6: West Overlook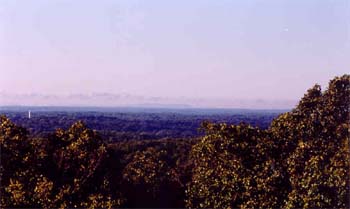 This stop atop Big Mountain (Pea Ridge) offers visitors an idea of the great distances involved in the battle. Bentonville is 11 miles to the west, while Fayetteville is 29 miles to the south.
There was no combat-related action that took place on this part of the mountain. Sigel's Troops passed by here during the night of the first day's battle.
Did You Know?

Almost half of the enlisted troops and many of the officers in the Union Army of the Southwest at the Battle of Pea Ridge spoke German as their first language.