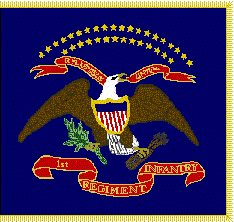 Image by Devereaux D. Cannon, Jr.
Colorized by Steven Burt
Federal Army Regimental Battle flag. According to the regulations, this was to be dark blue, with a large national emblem. Many times, other designs were substituted. The regimental flag of the 37th Illinois (the Fremont Rifles) had a large portrait of General Fremont on one side and scenes from the General's career on the other. The9th Iowa's regimental flag was white with Iowa's state seal on one side and red with the Massachusetts seal on the other.