Each Federal infantry regiment was authorized two flags. By Regulations, each flag was to be 72" high and 78" wide and made of silk. The first flag was the National Color, the "dear Old Flag". The second banner was the Regimental Color. Although most regiments were presented their colors prior to leaving for the war, some did not receive them until they were in the field for many months. At Pea Ridge, the 9th Iowa Infantry did not have any colors, so they used a small "Stars & Stripes" brought from home by one of the company commanders as their battleflag.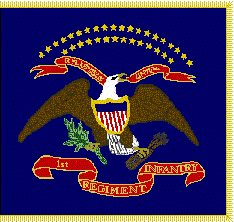 Image by Devereaux D. Cannon, Jr.
Colorized by Steven Burt
Federal Army Regimental Battle flag. According to the regulations, this was to be dark blue, with a large national emblem. Many times, other designs were substituted. The regimental flag of the 37th Illinois (the Fremont Rifles) had a large portrait of General Fremont on one side and scenes from the General's career on the other. The9th Iowa's regimental flag was white with Iowa's state seal on one side and red with the Massachusetts seal on the other.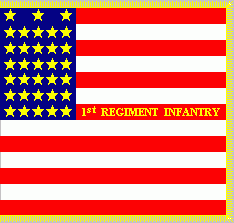 Image by Devereaux D. Cannon, Jr.
Federal Army National Battle flag. There were no regulations governing the layout of the stars on the national flag. Some flags had the stars arraigned in rows with either a square or rectangular canton (blue field), while others had the stars arranged in two-ovals within a rectangular canton.