Programs, Activities, and Events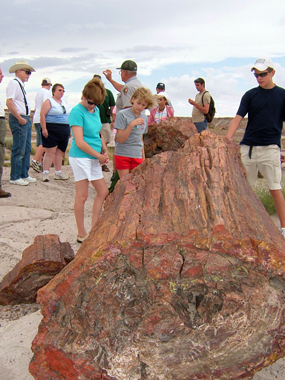 NPS
Events & Activities
Ongoing: Keep an eye out for roving rangers in park areas like Puerco Pueblo, Crystal Forest, and Giant Logs.
9/19/15: Pedal the Petrified: The third annual Pedal the Petrified non-competitive cycling tour of Petrified Forest National Park is happening on Saturday, Sept. 19, sponsored by Northland Pioneer College Friends and Family. All proceeds support student scholarships at Northland Pioneer College, the only comprehensive community college serving all of Navajo and Apache counties in northeastern Arizona. http://www.npc.edu/news/2015/04/pedal-petrified-2015

9/16-20/15 Navajo County Fair: The Navajo County Fair, Inc. will be celebrating the 84th Anniversary of the Navajo County Fair &Rodeo in Holbrook, Arizona. The park will have a booth at the fair. http://www.navajocountyfair.com/
9/26/15 National Public Lands Day: The biggest volunteer day in our public lands! To celebrate all the projects in the public lands, entrance to the national parks is free! http://www.publiclandsday.org/

10/14/15 National Fossil Day: Join Petrified Forest National Park in celebrating National Fossil Day! This special day is organized by the National Park Service to promote public awareness and stewardship of fossils, as well as to foster a greater appreciation of their scientific and educational values. https://nature.nps.gov/geology/nationalfossilday/

10/24/15: Petrified Forest Marathon: Run where no marathon has gone before…through "The Petrified Forest National Park". Through an exclusive partnership between the City of Holbrook and the National Park Service we are able to provide runners with this opportunity. http://www.petrifiedforestmarathon.com/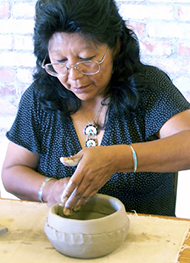 NPS
Cultural Demonstration Program
The park hosts regional cultural demonstrators at various times throughout the year.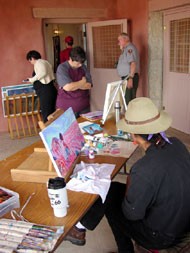 NPS
Artist-In-Residence Program
This program allows artists to spend time living and working in the park, sharing their experiences with visitors.