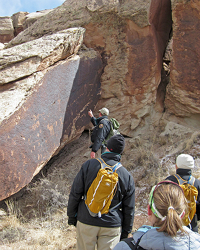 NPS
Events & Activities
Ongoing: In our 'off season', staff at Painted Desert Inn and Rainbow Forest Museum are happy to offer short, customized talks or walks as staffing and time allows; simply ask at either location.

Ongoing: Keep an eye out for roving rangers in park areas like Puerco Pueblo, Crystal Forest, and Giant Logs.

April 18-26, 2015: National Park Week!

May 2, 2015: Petrified Forest National Park will be helping with the next Native American Art Auction in Ganado, Arizona. This major event will be held Saturday May 2, 2015 at Hubbell Trading Post National Historic Site, with a preview of items from 9am-11am and the auction starting at noon (and lasting until the last item is auctioned off). Note that the Navajo Reservation observes daylight saving time. This event is a major fundraising effort to support scholarships, special events, and provide direct assistance to native artists in surrounding communities. To learn more, visit http://www.friendsofhubbell.org/Auction.htm

Saturday May 9, 2015: International Bird Day 8am-12pm Join a ranger for birdwatching along the Puerco Riverbed. Bring a chair (we will have a few to borrow), binoculars (we will have some to share), sun protection, and water. Park at Puerco Pueblo and walk across the road to the CCC pumphouse under the cottonwood trees. Normal entry fee applies.

Saturday May 16, 2015: Architectural tours of the Painted Desert Visitor Center Complex. 10am, 11am, 12pm, with each tour will last approximately 40 minutes. Meet at Painted Desert Visitor Center. Noted architect Richard Neutra designed this 'oasis in the desert', now considered a National Treasure.