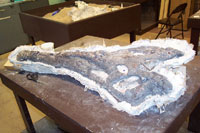 NPS Photo
The 2003 field season featured the successful excavation of a complete phytosaur skull from the Saurian Valley area of the Devils Playground. This is the first complete skull collected from the park in 17 years and probably belongs to the species
Leptosuchus crosbiensis
. Other significant finds from the 2003 field season included plates from an aetosaur,
Heliocanthus chamaensis
, previously known only from New Mexico, the first recorded jaw material of
Trilophosaurus
ever found in the park, a partial skeleton of the rare enigmatic reptile
Vancleavea
, and several important fossil plant discoveries by Dr. Sidney Ash and Dr. Rodney Savidge. Dr. Ash also published reconstructions of the Triassic trees
Woodworthia
and
Schilderia
in the journal Palaeontology.