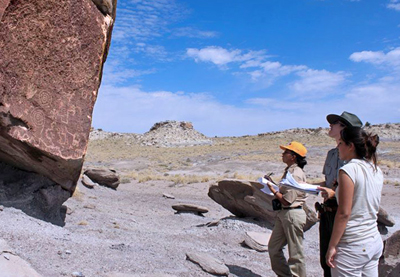 Petrified Forest National Park's High School Education Program
Petrified Forest National Park has an active and dynamic education program. In an effort to reach out to older students the park received project money to design "standards based" on and off site activities for students in grades 9–12. The activities provide students with opportunities to learn about paleontology, geology and archeology while participating in real scientific investigations. The activities include:

Prospecting without collecting: Students learn how to read GPS, a compass and a topo map. Students assist the park paleontologist with the location of fossils for potential collection. Students record what they find in their notebooks as well as photograph and GPS their discoveries.

Reading the Rocks-Solving a geologic problem: This activity takes place in the park, between Agate Mesa and the Teepees, in conjunction with the paleontology lesson. Students learn how to sequence rocks and how to find fossil bearing layers by using clue cards with photos and info about the rocks and the historical data of a field site.

Archeological Site Investigations and Rock Art analysis: Students explore a real archeological field site, record surface discoveries and the impacts of erosion at a deteriorating archeological site and analyze rock art for signs of degradation. Students make maps of meter sections, use GPS, compasses, topo maps and digital cameras.

Classroom Activities: Nature Journaling, Making a museum collection, Ceramic Reconstruction, Trash is Treasure, Mapping your world-Making an archaeological map of your room, Field reports—following onsite trips.