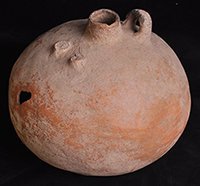 NPS Museum Collection
A series of droughts in the 1200s, during the Pueblo IV period, led ancestral Puebloan people to move away from small, scattered hamlets and instead build large pueblo communities. The Village on the Rio Puerco (or Puerco Pueblo, for short) is a 100+ room pueblo site located near the Puerco River, a major drainage that bisects the park. The river would have been a reliable source of water for crops. Farming of corn, beans, and squash took place on the floodplains and terraces along the river. The river also made a natural travel corridor, meaning travelers and traders frequented Puerco Pueblo, carrying new ideas as well as goods.
At its largest size, around 1300, Puerco Pueblo may have been home to about 200 people. The one-story high village of hand-shaped sandstone blocks was built around a rectangular plaza. The rooms were living quarters and storage, but most activity, like cooking and craftmaking, took place in the plaza. There were also several underground rooms, called kivas, where ceremonial practices took place. There were no doors or windows in the plaster-covered exterior walls of the pueblo. Entry into the village was by ladders over the wall and across the log, brush, and mud roofs of the room blocks.