Painted Desert Inn Rehabilitation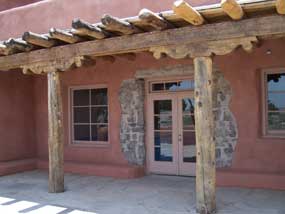 NPS/Marge Post
Begun on October 25, 2004, the most recent rehabilitation project repaired many of the buildings structural problems and improved visitor services. Included in the project: New wiring, plumbing, and security systems; plaster repair and painting; floor refinishing; new public restroom installation; repair to deteriorated support beams; construction of an accessible entrance into the building; re-grading the perimeter of the building; and re-laying flagstone courtyards for proper drainage.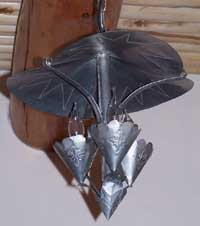 NPS/Marge Post
Thirty hand-hammered tin fixtures and mirrors, original to the building and produced by the Civilian Conservation Corps, were conserved by the Western Archeological Conservation Center in Tucson. This project was funded through visitor fees collected at Petrified Forest National Park.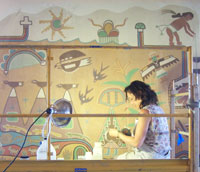 NPS/Marge Post
Conservation of wall murals by Hopi Indian artist Fred Kabotie at Painted Desert Inn was completed by Fine Art Conservation Laboratories. The murals are an important artistic element at Painted Desert Inn and many consider them priceless works of art. The team repaired flaking paint and detached plaster layers, and removed stains, surface grime, and a wax layer added during a 1977 conservation project. Cracks in the murals were filled in with plaster and in-painting (painting only where paint was missing) blended the repairs with Kabotie's original paint colors. All six murals were coated with a matte varnish layer to protect the surface, essentially waterproofing it.
Even though the problems that have and will continue to afflict Painted Desert Inn present a struggle for the National Park Service, we are committed to its preservation. In many ways these problems contribute to the overall love and appreciation for this unique National Historic Landmark.