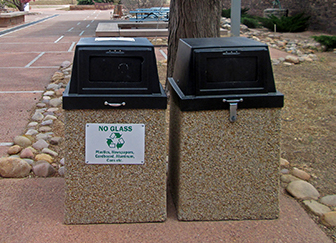 NPS
Proper waste separation with recycling and composting helps decrease the amount of waste sent to landfills. The park recycles plastics, metals, and paper. Visitors play an active role in helping the park achieve its waste diversion goals. There are recycling containers at the Rainbow Forest Museum, Painted Desert Inn National Historic Landmark, and Painted Desert Visitor Center.
Purchasing green products such as cleaning agents made with plant-based ingredients and recycled paper products help avoid the harmful impacts on health and the environment that conventional products may cause. Properly disposing of hazardous materials such as batteries is an important activity at the park, too.
Five sustainable steps you can take to lighten your carbon footprint at home or while visiting Petrified Forest National Park
1. Walk instead of driving when possible. Don't idle your vehicle while parked.
2. Use a refillable water bottle rather than purchasing bottled water. The park does not sell bottled water.
3. When picnicking, wash and reuse plates, cups and utensils instead of using disposable products.
4. Pack out waste that cannot be recycled. Reduce, reuse, and recycle when possible.
5. Drive at the posted highway speed while travelling. Did you know that for every 5 mph above 65 mph results in a 7-percent increase in fuel use?