Current Volunteer Opportunities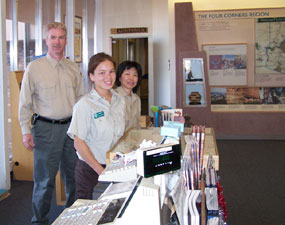 NPS
Cooperating Association and Bookstore
The Petrified Forest Museum Association is the park's cooperating association, providing funding, staff, and supplies. This non-profit organization also manages two bookstores in the park, located in the Painted Desert Visitor Center and Rainbow Forest Museum.
Donations
Monetary donations are graciously accepted and directly benefit the park. These funds are used for interpretation, visitor services and safety, as well as resource management programs.

Youth Conservation Corps
Youth Conservation Corps offers participants the opportunity to work in national parks while learning about environmental and archeological preservation, resource management, and future career opportunities with agencies that manage public lands.
Native Conservation Corps
First established at Petrified Forest National Park, this conservation group gives young people from American Indian tribes the opportunity to learn about resource management and future career opportunities in association with public lands. Petrified Forest has partnered with other parks in the Southwest to expand the participants' learning potential. They are also invited to share aspects of their culture with each other and present a summary of their experience when they return to their respective communities.