Pilot Fishing Program Closed Until Further Notice

The three miles of the Pecos River inside the park remains closed to public use. Public access to the river inside park boundaries is determined by condition of the resource. Please click "More" to link to the fishing page and additional information. More »
Support Your Park
Public support is a critical component in the management of National Park Service lands. No other federal agency relies as heavily on the generosity and kindness of its visitors. We sincerely thank you for your past support and look forward to future partnerships.
From volunteering as an information assistant in the E. E. Fogelson Visitor Center to joining our our cooperating association, to shopping in our bookstore, to joining our Friends group, there are many ways the public can support the park.


Did You Know?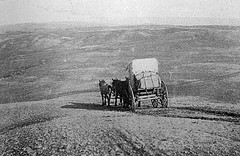 From 1821 to 1880, the Santa Fe Trail was a major commerce and travel route from Independence, MO to Santa Fe, NM. The trail took traders many weeks to traverse in often inhospitable conditions. Today visitors to the park can see trail evidence and in the summer months, take a ranger-guided tour of ruts and a structure that was a popular stage stop on the trail.