Things To Know Before You Come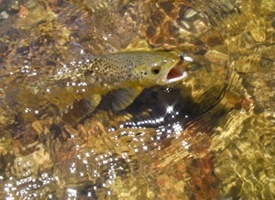 Photo by Doug Brown
Accessibility
Visitors with mobility impairments may access the Visitor Center, restrooms throughout the park, and the Ruins Trail.
For visitors with hearing impairments, wayside exhibits with illustrations and text on the cultural features are situated throughout the park and in the Visitor Center. Several publications about park features may be obtained at the Visitor Center.
Services
Food, gas, lodging and similar services are not available in Pecos National Historical Park, but are available in the town of Pecos (two miles away) and the city of Santa Fe (25 miles away). Visit these websites from Pecos or Santa Fe for more information.
Weather and Climate
From June through September, daytime temperatures may exceed 90 degrees Fahrenheit. Winter temperatures often drop below 32 degrees Fahrenheit.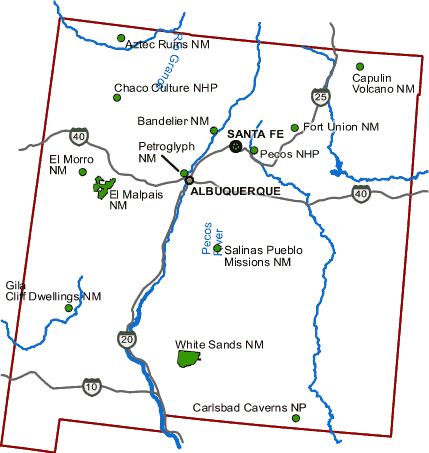 NPS Image
If you're visiting one of the national parks near Santa Fe, such as Bandelier, Petroglyph, or Fort Union, why not stop by Pecos National Historical Park as well? In addition to the pueblo and mission, there are many other connections to history and culture at Pecos, including stage stops on the Santa Fe Trail, sites of the furthest western Civil War battle, ranch history, and the summer home of the actress Greer Garson and her husband Buddy Fogelson.
Click here and scroll down to "search by state" for a link to national parks in the state of New Mexico as listed on the map at left.


Did You Know?

Glorieta Mesa represents millions of years of geologic history. An outstanding feature of the mesa is red Glorieta sandstone capped by yellowish San Andreas limestone.