Pilot Fishing Program Closed Until Further Notice

The three miles of the Pecos River inside the park remains closed to public use. Public access to the river inside park boundaries is determined by condition of the resource. Please click "More" to link to the fishing page and additional information. More »
Things To Know Before You Come
If you visit one of the larger national parks near Santa Fe such as Bandelier or Petroglyph, why not plan to stop by Pecos National Historical Park as well? In addition to the pueblo and mission, there are many other connections to Southwestern history and culture at Pecos, including stage stops on the Santa Fe Trail, sites of the furthest western Civil War battle, New Mexico ranch history, and the summer home of the actress Greer Garson and her husband Buddy Fogelson.
Be sure to wear sunscreen and bring a water bottle (you can fill it up in the Visitor Center).
Pets are allowed on the trails (on a leash) and we have several Junior Ranger programs--one each for pueblo history here at the park, the
Santa Fe Trail
, and the
Wagonmaster
program.
When you hike around Pecos NHP, you'll likely come upon many shards and relics, especially from the pueblo. Please note that it is
illegal to remove anything from a national park,
and so we remind you to leave whatever you may see in place for the enjoyment of future generations.
We also have
Civil War Trading Cards
, so be sure to ask about that.
Click here and scroll down to "search by state" for a link to national parks in the state of New Mexico. We look forward to your visit to Pecos National Historical Park!



Did You Know?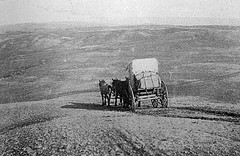 From 1821 to 1880, the Santa Fe Trail was a major commerce and travel route from Independence, MO to Santa Fe, NM. The trail took traders many weeks to traverse in often inhospitable conditions. Today visitors to the park can see trail evidence and in the summer months, take a ranger-guided tour of ruts and a structure that was a popular stage stop on the trail.