Civil War Weekend 2014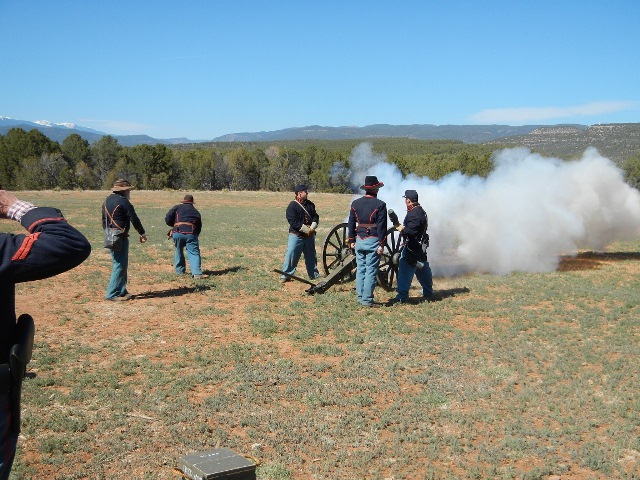 Photo by Patricia Lenihan
Perfect weather and a fine turnout enriched Pecos National Historical Park's Civil War event over the weekend of March 29-30. Black powder (rifle and canon) demonstrations, authors and historians, children's activities, and van tours of the battlefield helped make the commemoration dynamic and memorable.
New Mexico and the Pecos region played an important role in the outcome of the American Civil War, and this year the park paid homage to the 152nd anniversary of the Civil War Battle of Glorieta Pass. The "Gettysburg of the West" marked the farthest western incursion by the Confederacy.

Visitors experienced the sight and sound of artillery, music by a fife-and-drum corps, a look at period military medicine, and the chance to interact with interpreters attired in period dress who demonstrated life both in a military camp and on the home front. The park holds the event during the last March weekend of every year. Van tours of the battle sites are offered each week. For additional information, contact the E.E. Fogelson Visitor Center at 505-757-7241 or visit the park's Twitter account at https://twitter.com/PecosNHP.
Directions
The park is located about 25 miles east of Santa Fe off of Interstate 25; take exit 299, bear left onto the overpass, turn right on Route 50; proceed for eight miles; turn right at the four-way stop in the village of Pecos. Go two more miles and the park entrance will be on your right. From the north, take exit 307 and proceed north approximately five miles on HWY 63.
Click here for "New Mexico Remembers," a 20-minute film about the New Mexico Territory's role in the American Civil War.