News Releases
Stage 2 Fire Restrictions in Effect
June 10th, 2013
Due to extreme fire danger, the park has implemented Stage 2 Fire Restrictions to ensure public safety and park resource protection. Fire restrictions will apply to all NPS land in the Pecos, Glorieta, and Canoncito vicinities.
Click here to return to our NPS news page!

Did You Know?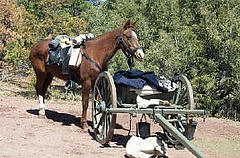 Confederate plans to advance west were thwarted at the Battle of Glorieta Pass when Union troops burned Confederate supply wagons at Johnson's Ranch. Henry Sibley wanted to advance north into the gold mines of Colorado and continue west to put Confederates in control of seaports in California.