Laws & Policies
1916 Act to Establish a National Park Service (Organic Act)
Enabling Legislation for Pecos National Historical Park- Pecos Unit
Enabling Legislation for Pecos National Historical Park- Glorieta Unit
Pecos Public Law enactments, including 100-225 and 101-313

Pecos NHP Superintendent's Compendium
A compilation of designations, closures, permit requirements and other restrictions made by the superintendent in addition to what is contained in the Code of Federal Regulations and other applicable federal statutes and regulations.
2012 Press Release: Pecos NHP Superintendent's Compendium PDF
2012 Superintendent's Compendium - Introduction PDF
2012 Superintendent's Compendium PDF
---
FIREARMS IN PARKS

As of February 22, 2010 a new federal law allows people who can legally possess firearms under applicable federal, state, and local laws, to legally possess firearms in this park. It is the responsibility of visitors to understand and comply with all applicable state, local, and federal firearms laws before entering this park. As a starting point, please visit our state's website.
New Mexico Department of Public Safety
Federal law also prohibits firearms in certian facilities in this park; those places are marked with signs at all public entrances.
---
GUIDELINES FOR Living History and Black Powder Demonstrations
Infantry-Blackpowder Guidelines Overview pdf 140 KB
19th Century Artillery Drill Guidelines pdf 9.9mb
Did You Know?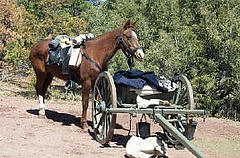 Confederate plans to advance west were thwarted at the Battle of Glorieta Pass when Union troops burned Confederate supply wagons at Johnson's Ranch. Henry Sibley wanted to advance north into the gold mines of Colorado and continue west to put Confederates in control of seaports in California.