Management
Park Photo
Some of the files under the dropdown links to the left, "Laws and Policies" and "Park Planning," require Adobe Acrobat Reader (a free application) for viewing; please click here and follow instructions to install.
If you are a teacher looking for Field Trip planning paperwork, such as a Fee Waiver application, please click here.


Did You Know?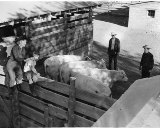 Oscar-winning actress Greer Garson and her husband Col. E.E. Fogelson owned the Forked Lightning Ranch. They donated 300 acres in 1965 for the creation of Pecos National Monument, money in 1983 for construction of the Visitor Center, and land for the designation of Pecos National Historical Park.