Pilot Fishing Program Closed Until Further Notice

The three miles of the Pecos River inside the park remains closed to public use. Public access to the river inside park boundaries is determined by condition of the resource. Please click "More" to link to the fishing page and additional information. More »
Management
Park Photo
Some of the files under the dropdown links to the left, "Laws and Policies" and "Park Planning," require Adobe Acrobat Reader (a free application) for viewing; please click here and follow instructions to install.
If you are a teacher looking for Field Trip planning paperwork, such as a Fee Waiver application, please click here.


Did You Know?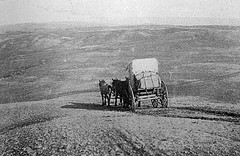 From 1821 to 1880, the Santa Fe Trail was a major commerce and travel route from Independence, MO to Santa Fe, NM. The trail took traders many weeks to traverse in often inhospitable conditions. Today visitors to the park can see trail evidence and in the summer months, take a ranger-guided tour of ruts and a structure that was a popular stage stop on the trail.