Pilot Fishing Program Closed Until Further Notice

The three miles of the Pecos River inside the park remains closed to public use. Public access to the river inside park boundaries is determined by condition of the resource. Please click "More" to link to the fishing page and additional information. More »
Places
Photo by Patricia Lenihan
Sites of the Battle of Glorieta Pass include Johnson's Ranch, Pigeon's Ranch, Camp Lewis, Kozlowski's stage stop on the Santa Fe Trail, Windmill Hill and Apache Canyon. There are two ways visitors may gain a firsthand view of many areas of the battle: one is to walk the Glorieta Battlefield Trail (come to the Visitor Center first for access) and another is to reserve a spot (call 505-757-7241) on a ranger-led van tour of the sites. Also ask us about our Civil War to Civil Rights Trading Cards program-the park now makes available to park visitors five cards relating to the Battle of Glorieta Pass. Here is a link to downloadable files for the five cards offered by Pecos NHP.

Pecos National Historical Park is one of the 70 sites that provides opportunities to tour locations where the Civil War occurred 150 years ago.
As for the Santa Fe Trail, park rangers offer a brief chronicle of the trail, focusing on its colorful characters, history and culture from early days of trade to the Civil War to "manifest destiny" and western expansion, during the Civil War and Forked Lightning Ranch van tours.
Hear about the merchants, adventurers, journalists, naturalists, traders, trappers and adventurous citizens who made the dangerous journey; and discover the physical crossroads of Santa Fe Trail history that Pecos NHP interprets, including Kozlowski's stage stop and the storied ruts that run through park property.
For a Geology Fieldnotes/Park Geology page on the nearby Terrero Mine, click here.


Did You Know?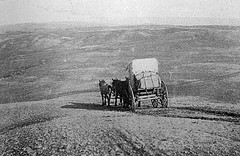 From 1821 to 1880, the Santa Fe Trail was a major commerce and travel route from Independence, MO to Santa Fe, NM. The trail took traders many weeks to traverse in often inhospitable conditions. Today visitors to the park can see trail evidence and in the summer months, take a ranger-guided tour of ruts and a structure that was a popular stage stop on the trail.