People
Warner Bros. Photo
Greer Garson and her husband E. E. "Buddy" Fogelson were benefactors to the National Park Service both in terms of financial support (for example, the E.E. Fogelson Visitor Center) and transferring acreage to Pecos National Historical Park.
Click here for a YouTube video of Greer Garson Fogelson interviewed by Canadian talk show host Elwy Yost, circa 1985, before a roaring fireplace in the living room of the Forked Lightning Ranch house, now part of Pecos NHP.
Here is a link to Part Two of the same interview, where she is seated before a grand piano in the living room. Tours are available of the ranch house each Sunday; call 505-757-7241 for reservations.


Did You Know?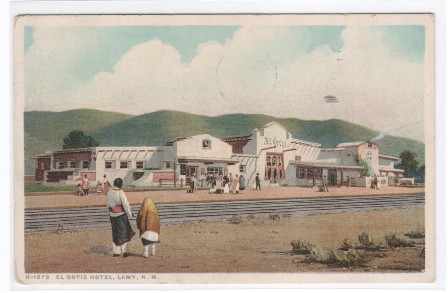 Fred Harvey hotels, where travelers could get a healthy meal and sleep in comfort right near train stations on their journeys through the Southwest, were known for their excellent service. The El Ortiz Hotel and Lunchroom at Lamy, NM was torn down many years ago. It stood across from the current Amtrak Station at Lamy, which is the stop closest to Santa Fe. La Fonda, the Harvey Hotel at the end of the Santa Fe trail, is still in operation.