Park Phone issues

The visitor center main phone line and fax line are not working. To reach the park visitor center, call (361) 949-8069 or (361) 949-4793. Fax to (361) 949-7091, Attention: Visitor Center. We apologize for the inconvenience.
Bird Island Basin Campground rehabilitation starts August 18, 2014

The second part of a project to repair facilities and rebuild eroded shoreline at Bird Island Basin Campground begins August 18. Minor disruptions of activities in the immediate area may occur. None of the work should affect use of the boat ramp.
Park Newspaper
Download (PDF, 2.98MB) the 2014 edition of The Gulf Breeze, Padre Island National Seashore's park magazine. It's a wonderful resource for planning your visit to the park, with helpful information on things to do and commonly asked questions. It also has some great articles on the plants, animals, landscape, and history of the park. Download and print your copy today!


In this Issue
Things to Do
Butterflies of Padre Island
One Tenth of One Percent
Record-breaking Year for Loggerheads and Greens
Do You Know Your Beans?
Shark Bite Games!
Traveling Down Island: What You Should Know
Frequently Asked Questions
Did You Know?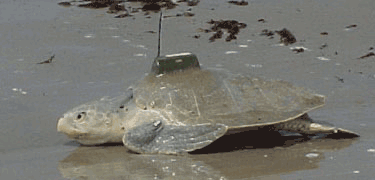 Kemp's ridley sea turtles are both the smallest and the most endangered sea turtles in the world. Padre Island National Seashore is one of only a few places in the world where Kemp's ridley sea turtles come to nest. More...