Park Phone issues

The visitor center main phone line and fax line are not working. To reach the park visitor center, call (361) 949-8069. Fax to (361) 949-7091, Attention: Visitor Center. We apologize for the inconvenience.
Bird Island Basin Campground rehabilitation starts August 18, 2014

The second part of a project to repair facilities and rebuild eroded shoreline at Bird Island Basin Campground begins August 18. Minor disruptions of activities in the immediate area may occur. None of the work should affect use of the boat ramp.
Bird Island Basin Campground Rehabilitation Begins Monday, March 17, 2014
Date:
March 6, 2014
Contact:
William "Buzz" Botts
, 361-949-8068
The National Park Service is beginning a two part project to repair the facilities and rebuild the eroded shoreline in the Bird Island Basin Campground. Minor disruptions of various activities in the immediate area may occur. Please note that none of the work should affect the use of the nearby Bird Island Basin boat ramp.
Over the past decade, storms and wave action from passing barges and small craft have slowly eroded the beach and shoreline in the campground area. In addition, many of the campsite shade structures need to be rehabilitated and moved back from the water's edge.
The work will be completed in two phases. The first work is scheduled to begin just after spring break and will involve removing older, degraded shade structures and rebuilding them farther away from the shoreline to increase their longevity. Once that work is completed, contractors will be on site to complete construction of features that should be able to better stabilize the shoreline. The final phase will involve reconstructing the beach that once existed on the site and re-vegetating areas that are not subjected to heavy visitor use.
Please note that weather, supply shortages, and/or other unforeseen circumstances may cause the work schedule to change. For the most current information on the campground rehabilitation and improvements, please call the Malaquite Visitor Center at (361) 949-8068.
The Padre Island National Seashore staff apologizes for any inconvenience and appreciates your patience as work takes place to protect and preserve the environment and recreation opportunities.
Did You Know?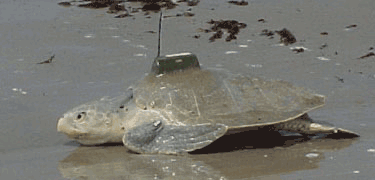 Kemp's ridley sea turtles are both the smallest and the most endangered sea turtles in the world. Padre Island National Seashore is one of only a few places in the world where Kemp's ridley sea turtles come to nest. More...