Park Phone issues

The visitor center main phone line and fax line are not working. To reach the park visitor center, call (361) 949-8069. Fax to (361) 949-7091, Attention: Visitor Center. We apologize for the inconvenience.
Bird Island Basin Campground rehabilitation starts August 18, 2014

The second part of a project to repair facilities and rebuild eroded shoreline at Bird Island Basin Campground begins August 18. Minor disruptions of activities in the immediate area may occur. None of the work should affect use of the boat ramp.
Look For and Report Stranded Sea Turtles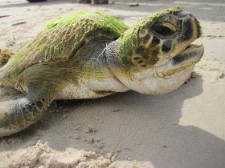 NPS Photo
If you are walking on a shoreline, driving on the beach, or boating, here is a great way that you can help save sea turtles.
Watch for sea turtles that are stranded. A stranded sea turtle is one that is found washed ashore or floating, alive or dead. If it is alive, it is generally in a weakened condition.
Stranded sea turtles can be found in bays, passes, the Gulf of Mexico, or on their shorelines. They can be located year-round.
It is important that you watch for and report stranded sea turtles so that biologists can document them. Live, stranded sea turtles will be taken to rehabilitation facilities to receive care. Dead, stranded sea turtles will sometimes be salvaged for necropsy and study, and when they are not, they will be removed from the beachfront or marked so that they are not documented again.
If you find a stranded sea turtle, please report it by flagging down a passing turtle patroller (April through mid-July) or law enforcement officer, or by calling the appropriate area coordinator. If you do not recall the number for the area coordinator, call 1-866-TURTLE5 and a recorded message will give you that number.
· Report the turtle's location, size, proximity to the surf, and condition (alive or dead).
· Mark the location.
· If the turtle is alive, stay at the site until an official arrives if possible.
Your assistance is greatly appreciated and could make all the difference in ensuring the survivorship of these threatened and endangered turtles.
Contact Information

Follow this link to find out who to contact about nesting or stranded sea turtles in your area. Read More

We're on Facebook

The Division of Sea Turtle Science and Recovery is on Facebook! Follow our page to find out information about the current nesting season and upcoming hatchling releases. Read More
Did You Know?

Although Padre Nicolas Balli established the first permanent settlement on the island, the island was previously owned by his father and his grandfather, who obtained the original grant from the Spanish crown. More...