Park Phone issues

The visitor center main phone line and fax line are not working. To reach the park visitor center, call (361) 949-8069. Fax to (361) 949-7091, Attention: Visitor Center. We apologize for the inconvenience.
Bird Island Basin Campground rehabilitation starts August 18, 2014

The second part of a project to repair facilities and rebuild eroded shoreline at Bird Island Basin Campground begins August 18. Minor disruptions of activities in the immediate area may occur. None of the work should affect use of the boat ramp.
Sand Dunes
NPS photo
Sand dunes are a critical element of the island's ecology.
Sand blowing off the Gulf beaches forms the dunes lining the island's eastern shore. These are known as the "fore-island dunes". Their existence is critical to the island because they form a natural dike, which prevents storm tides from inundating and consequently destroying the grasslands. In essence, they can be thought of as the barrier in the term "barrier island". Walking in the dunes is discouraged, because paths can form and gradually widen into large gaps, which can allow can require a long time to heal.
Occasionally, a gap will form in the fore-island dunes allowing sand to blow out into the grasslands and form dunes. These are known as "blow-out" dunes. The wind can push these as much as 35 feet in one year. As long as they are not covered with vegetation, the blow-out dunes continue to move. But once vegetation takes root, the dunes stop. These vegetated dunes can be seen throughout the interior of the park and appear as small, grass-covered hills or ridges.
Sometimes the blow-out dunes gather and form expanses of barren sand known as dune fields. Dune fields can cover many acres and can contain small ponds after wet weather.


Did You Know?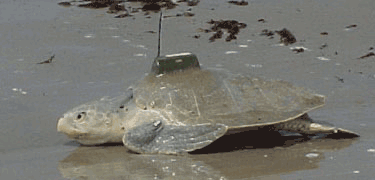 Kemp's ridley sea turtles are both the smallest and the most endangered sea turtles in the world. Padre Island National Seashore is one of only a few places in the world where Kemp's ridley sea turtles come to nest. More...