BIB Campground Rehabilitation begins March 17, 2014

A project to repair the facilities and rebuild the eroded shoreline in the Bird Island Basin Campground will begin March 17, 2014. Minor disruptions in the immediate area may occur. Please note that none of the work should affect the use of the boat ramp.
North Beach is open, South Beach will open at 8 am 4/5/2014

The oil-covered materials on the beach have been removed, and clean-up is nearly complete. The North Beach portion of the park is open to driving as of 11:50 am on 4/4/2014. The South Beach portion will open to driving at 8 am on 4/5/2014.
Natural Features & Ecosystems
NPS photo
The National Seashore is mostly prairie/grasslands with ephemeral marshes and ponds bordered on the east by the Gulf of Mexico and on the west by the Laguna Madre. The highest elevation is approximately fifty feet. The National Seashore is 70 miles long with 65.5 miles of Gulf beach. Most of the seashore is accessible only by four-wheel-drive vehicle.
The Gulf beach is composed of white sand and is less than a hundred feet wide, Much of it is firmly packed, except for a stretch of about forty miles which becomes increasingly soft towards the center and is composed to a large degree of shells.
Bordering the beach is a narrow dune ridge running throughout the park and almost the length of the entire island. Sometimes natural or unnatural forces create breaches in the dune ridge and sand blows through creating "blowout" dunes, which may drift across the island at the rate of as much as 35 feet per year until they become vegetated. Sometimes dune fields form covering many acres.
West of the dune ridge are the grasslands and marshes.
Few trees exist on the island. Those that do are mostly mesquite, live oak, or willow.
On the western shore of the island are extensive mudflats.


Did You Know?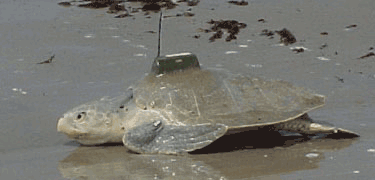 Kemp's ridley sea turtles are both the smallest and the most endangered sea turtles in the world. Padre Island National Seashore is one of only a few places in the world where Kemp's ridley sea turtles come to nest. More...