Park Phone issues

The visitor center main phone line and fax line are not working. To reach the park visitor center, call (361) 949-8069. Fax to (361) 949-7091, Attention: Visitor Center. We apologize for the inconvenience.
Bird Island Basin Campground rehabilitation starts August 18, 2014

The second part of a project to repair facilities and rebuild eroded shoreline at Bird Island Basin Campground begins August 18. Minor disruptions of activities in the immediate area may occur. None of the work should affect use of the boat ramp.
Blue Crab
NOAA
Found in the waters off the Atlantic Ocean and Gulf of Mexico, the Blue crab is native to the western shores of the Atlantic. These crabs are omnivores, eating both plants and animals. Their natural predators include eels, drum, redfish, trout, sharks and sting rays. Females mate just one time, which occurs immediately after molting of the hard shell. She can spawn many times from this single mating. In fact, the mating ritual is quite elaborate, with the male carrying and protecting the female both before and after the mating process. These crabs are both commercially and recreationally harvested for their tasty meat. Its popularity as food for humans and habitat loss have led to a serious drop in Blue crab populations.
Did You Know?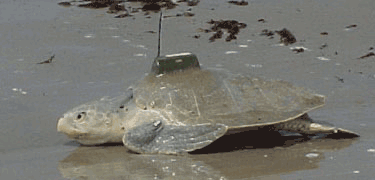 Kemp's ridley sea turtles are both the smallest and the most endangered sea turtles in the world. Padre Island National Seashore is one of only a few places in the world where Kemp's ridley sea turtles come to nest. More...