Division of Sea Turtle Science and Recovery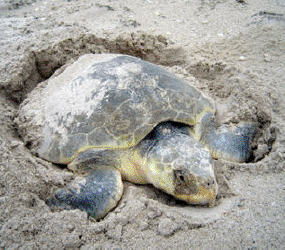 NPS Photo
The sea turtle science and recovery program at Padre Island National Seashore is a part of overall global efforts to help recover the populations of seven species of threatened and endangered sea turtles. Five of the world's seven sea turtle species are found in the Gulf of Mexico: leatherback, hawksbill, green, loggerhead and Kemp's ridley. Nests from all five species have been documented at Padre Island National Seashore. The National Seashore is the only location in Texas where nests from all five species have been documented. Park waters also provide important habitat for these species.

These magnificent marine animals, once abundant in the oceans, declined during the last century. Human development on turtle nesting beaches, harvesting of the eggs, slaughtering for food and consumer products, and incidental capturing by fisheries are to blame for dwindling turtle populations. Each of the five sea turtle species of the Gulf is now classified as either threatened or endangered and could become extinct unless steps are taken to protect and enhance its populations.
The Division of Sea Turtle Science and Recovery at Padre Island National Seashore conducts an active science, conservation, and public education program on behalf of the five sea turtle species that occur at the park. This work is local, statewide, national, and international in scope, in partnership with numerous entities. This work receives extensive community support and media coverage.
The largest program conducted by this Division is the Kemp's Ridley Sea Turtle Recovery Project. This program is long-term and involves many entities in the U.S. and Mexico.
Another large, long-term project is the Sea Turtle Stranding and Salvage Network (STSSN). The Division participates in this network and the Division Chief is the Texas Coordinator of the STSSN. As Texas Coordinator, the Division Chief (with help of others in the Division) maintains the tally of sea turtles found stranded (washed ashore or floating, alive or dead) on the Texas coast. The Division Chief also maintains the tally of sea turtle nests found on the Texas coast and provides technical assistance and training to others working in the state with stranded and nesting turtles.
Division personnel have led or participated in several studies of sea turtles. Many of these studies have been collaborative with other researchers in the U.S. and Mexico. These studies have addressed priority items in the Recovery Plans for the various species and have produced information that has increased understanding of these species and aided with their conservation.
Division personnel led studies that utilized satellite telemetry to track the movements of nesting Kemp's ridley turtles, adult male Kemp's ridley turtles, juvenile green sea turtles,and adult green sea turtles. The green sea turtle tracking study was part of a larger study of the distribution, residency, and seasonal movements of green sea turtles in Texas, which also involved directed capture by research netting and examination of stranding data. They also participated in studies that used STSSN data to evaluate mortality.
Data continue to be gathered in collaboration with others on nesting and stranding trends in Texas, results of the imprinting and head-starting, life-history parameters for nesting turtles and nests, incubation temperatures and sex ratios, foraging ecology, genetics, and other topics.