Sea Turtle Recovery Project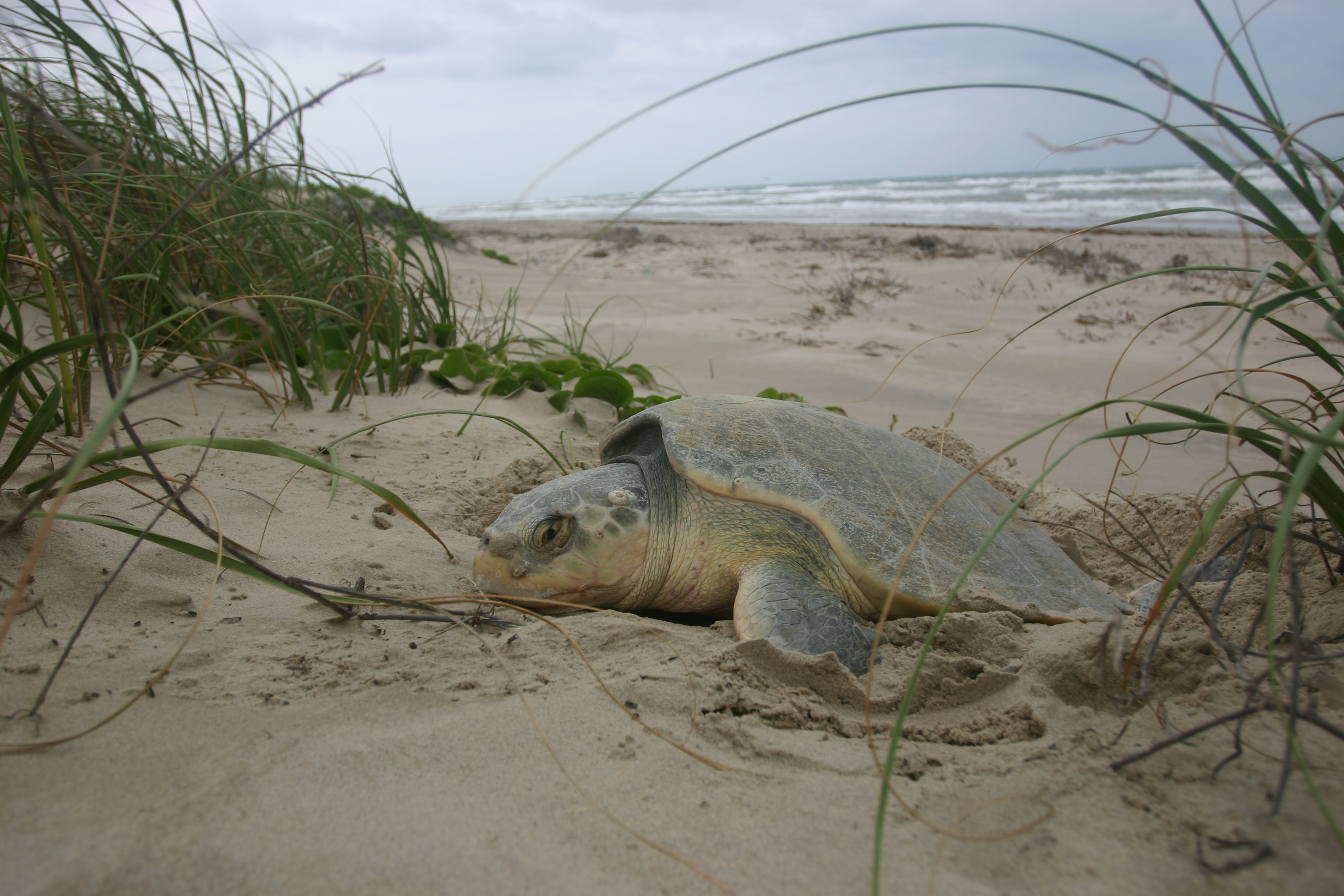 NPS Photo
International Efforts to Save Kemp's Ridley Sea Turtle
The principal nesting area for Kemp's ridley sea turtle is a 16-mile stretch of beach at Playa de Rancho Nuevo, Tamaulipas, Mexico, where approximately 40,000 Kemp's ridleys nested in a single day in 1947. Due to human activities, the population plummeted and reached a low of only 702 nests worldwide in 1985.
The scarcity of Kemp's ridley turtles in the 1970's prompted the U.S. to join on-going efforts in Mexico to save this endangered species. From 1978-1988, an international, multi-agency project was undertaken to increase nesting by Kemp's ridley sea turtles at Padre Island National Seashore to form a secondary nesting colony for this indigenous species, as a safeguard against extinction. Overall, 22,507 eggs were collected in Rancho Nuevo, packed in Padre Island sand, and transported to the National Seashore where they were hatched in controlled conditions. The resulting hatchlings were released on the beach at the National Seashore, allowed to crawl into the surf, and captured using aquarium dip nets after a brief swim in the Gulf of Mexico. It was hoped that this exposure to the Padre Island sand and surf would imprint the turtles to the National Seashore so that they would return here to nest at adulthood. Padre Island National Seashore was selected for this effort since Kemp's ridley is a native nester there and protection could be afforded to the nesting habitat, turtles, and eggs since it is a unit of the National Park Service system.
The captured hatchlings were transported to the National Marine Fisheries Service Laboratory in Galveston, Texas, where they were reared in captivity for 9-11 months. This "head-start" program allowed the turtles to grow large enough to avoid most predators and be tagged for future recognition. A numbered metal tag was attached to one front flipper of each eight-inch sea turtle. Beginning in 1982, the turtles were also marked with "living tags" -- small plugs of their lighter bottom shell implanted into their darker upper shell. Finally, the one year old turtles were released permanently, most into Gulf of Mexico waters off Mustang and North Padre Islands.
Nest Detection Efforts in Texas

In 1986, Padre Island National Seashore began systematic efforts to detect, investigate, and protect nesting by Kemp's ridley and other sea turtles on North Padre Island and these efforts have grown over the years. Many other partners in Texas are also working to detect and protect nesting. Today, nest detection patrols occur on the entire Texas Gulf of Mexico beachfront to some extent during the Kemp's ridley nesting season.
In cooperation with several partners, the National Park Service conducts an extensive program to detect, document, and protect nesting Kemp's ridley sea turtles and sea turtle nests. From April through mid-July staff and volunteers patrol North Padre Island repeatedly each day searching for nesting Kemp's ridleys and nests. These searches occur during daylight hours since Kemp's ridleys nest mostly during the day, although nighttime nesting sometimes occurs.


Over 100 volunteers participate in various aspects of this nest detection and protection program at the National Seashore each year. Additionally, the National Seashore and partners conduct extensive public education efforts since others that recreate or work on the beach also sometimes locate nests.


Biologists want to protect the nesting Kemp's ridley turtles and nests from various natural and human-related threats that could impact their survival. When patrollers locate a track site on North Padre Island where a nesting female emerged on the beach, but biologists are unable to find the nest after hours of searching, a trained Kemp's ridley nest detector dog is sometimes brought to the site to help find the nest.


Eggs from most of the nests found on North Padre Island and northward on the Texas coast are brought to the incubation facility at the National Seashore for protected care. However, eggs from some of the nests found at the southern end of the National Seashore are placed into a large screen enclosure called a corral. Eggs from nests found on South Padre Island and Boca Chica Beach are incubated in a corral on South Padre Island. Hatchlings from nests protected in Texas are released and allowed to go free.


A few nests are not found on the Texas coast at egg laying and thus incubate at the nest site (in situ). Since these nests are not protected, they typically have a lower survival rate than protected nests.


Kemp's ridley nests documented on the Texas coast since 1996
| | | | |
| --- | --- | --- | --- |
| Year | No. of Nests | No. of Eggs | Hatchlings Released |
| 1996 | 6 | 590 | 369 |
| 1997 | 9 | 968 | 893 |
| 1998 | 13 | 1,270 | 800 |
| 1999 | 16 | 1,681 | 1,364 |
| 2000 | 12 | 1,160 | 1,000 |
| 2001 | 8 | 837 | 584 |
| 2002 | 38 | 3,771 | 2,536 |
| 2003 | 19 | 1,718 | 1,426 |
| 2004 | 42 | 3,928 | 3,298 |
| 2005 | 50 | 4,700 | 3,402 |
| 2006 | 102 | 9,717 | 7,475 |
| 2007 | 128 | 12,565 | 10,594 |
| 2008 | 195 | 17,958 | 15,819 |
| 2009 | 197 | 17,518 | 14,506 |
| 2010 | 141 | 13,584 | 11,983 |
| 2011 | 199 | 18,904 | 16,092 |
| 2012 | 209 | 20,067 | 16,577 |
| 2013 | 153 | 13,549 | 11,369 |
| 2014 | 119 | 11,330 | 10,067 |
* Note that some years, the number of eggs and hatchlings released does not include those from a few nests that incubated in situ (at the nest site on the beach) since these numbers are difficult to quantify due to predator disturbance at most of these sites.
Recent Efforts in Mexico and Population Status
Due to years of conservation efforts, Kemp's ridley nesting is also increasing in Mexico. Protection efforts for nesting Kemp's ridleys and their eggs have continued at Rancho Nuevo since they began in the mid-1960s. In recent years, these efforts have expanded to adjacent beaches as nest numbers have grown there. Many partners from Mexico and the U.S. are now involved, including the seafood industry which has joined as a partner and has aided with the expansion of patrol and nest protection camps to the north and south of Rancho Nuevo. As nesting has increased, nesting patrols have begun earlier and extended later into the evening. Arribada size has increased and arribadas have been documented during the day and night. After reaching a low of only 702 nests worldwide in 1985, about 21,797 nests were found worldwide during 2012. This substantial population growth is encouraging, but in order to continue to make progress towards population recovery, conservation efforts in Mexico and the U.S. must continue. The Kemp's ridley population can be down-listed to threatened status after a number of milestones outlined in the Kemp's Ridley Recovery Sea Turtle Plan are met. One of those milestones is 10,000 females nesting in a season. Since each female lays 2.5-3.0 clutches within a nesting season, the approximately 21,797 nests found during 2012 would have been produced by about 7,266-8,719 females. Biologists believe that if the Kemp's ridley population continues to increase, it may be possible to down-list the species to threatened status by 2020. No criteria exist in the current Recovery Plan for removal of Kemp's ridley from the Threatened and Endangered Species List altogether.
How Can You Help?
Be observant and report nesting and stranding occurrences. If you see any sea turtle tracks, or if you see a live or dead sea turtle on the beach, immediately contact a passing turtle patroller (if on the Gulf beach between April and mid-July) or Park Ranger. If you do not find them, call the Chief of the Division of Sea Turtle Science and Recovery at (361)949-8173, extension 226. For nesting turtles, nests, and live stranded sea turtles, standby at the site until a Biologist arrives if possible. However, do not detain nesting turtles or hatchlings, and do not force any turtles back into the water. Taking or having in your possession any part of these threatened or endangered turtles is a felony, with fines ranging up to $20,000. If you find a nesting female, protect her from passing traffic. Do not approach her until she has already begun laying her eggs or is covering her nest. If possible, photograph or videotape her. Examine her top shell for a living tag and note the location. Look at her front flippers to find a metal tag and record the number, but do not remove the tag. Place a distinguishable marking on the sand about one foot to the side of the nest. Also, protect any sea turtle tracks you find. Place a noticeable object next to the tracks and note their exact location. Be sure to notice how far the tracks extend up the beach and mark where they terminate. However, do not pierce anything into the sand where the nest might be located.
If you see hatchlings emerging from a previously undetected nest and crawling towards the water, protect them from predators and passing traffic, count them, photograph or videotape them, and allow them to enter the water. Place a distinctive object next to the place in the sand that they emerged from.
Click on the links to learn more:


Current Sea Turtle Nesting Season
Hatchling Sea Turtle Releases