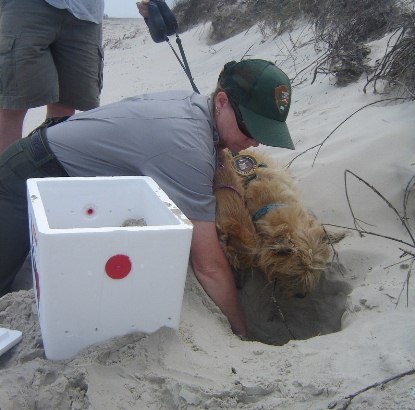 Ridley Ranger is a seven-year old Cairn terrier that has been trained to find Kemp's ridley nests at sites where park staff have been unable to locate them. Biologists want to find nests so that the eggs can be protected from natural and human-related threats.
Finding nesting Kemp's ridleys is a challenging task because the turtles blend in so well with the sand and they are often partially covered with sand while nesting. Sometimes it is impossible to find the nest because a large portion of the tracks have blown away by the time the biologists arrive. In May of 2006, Dr. Donna Shaver, Chief of the Division of Sea Turtle Science and Recovery, started training Ridley to find nests at sites where biologists could not, and he has been a member of the sea turtle team ever since.
In June 2006, Ridley located a nest that was weeks old at Padre Island National Seashore. Biologists had spent hours looking for this nest on the day that a turtle came ashore there, but were unable to find it. Weeks later they returned with Ridley, who was still early in his training. He eagerly searched the beach and lay down on the exact spot where the nest was located.
In 2007, staff and volunteers spent five hours searching a site that had been found by beach patrollers on North Padre Island. Unable to find the nest, they called in Ridley who found it immediately. Thanks to Ridley, 92 healthy hatchlings were successfully released from this nest in July 2007.
In 2009, Ridley found another nest on North Padre Island. Staff and volunteers searched this location for three hours. As the sun started to set and the beach cooled, Ridley was brought to the site where he charged up the beach and found the nest immediately. He gently pawed the sand and directly beneath, biologists found 76 eggs that they retrieved for protected incubation. The resulting hatchlings were released in July 2009.
Ridley continues to aid the Kemp's ridley recovery project. His important help has been discussed in a variety of media. In addition to those listed below, Ridley's aid has been mentioned in books including: Dogs of Courage: The Heroism and Heart of Working Dogs Around the World by Lisa Rogak.
Ridley Ranger in the News
The Cairn Terrier Club of America