Sea Turtle Hatchling Releases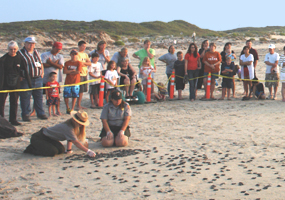 Photo by Julio Barrada
Protection of Nests


Eggs from most sea turtle nests found at Padre Island National Seashore and northward along the Texas coast are transported to the Padre Island National Seashore incubation facility for protected care and monitoring and the hatchlings are released at the northern end of Padre Island National Seashore. However, eggs from some of the nests found at the southern end of Padre Island National Seashore are incubated in a screen enclosure called a corral, located at the base camp near the National Seashore's 40 mile marker, and the resulting hatchlings are released there.

Eggs from nests found on South Padre Island and Boca Chica Beach are transported to a corral on South Padre Island and hatchlings emerging from those nests are released on South Padre Island.

Hatchlings from the incubation facility and corrals are released after they enter an active state called a frenzy which occurs about 1-3 days after the slow process of hatching is first detected. Hatchlings are guarded during release to ensure that they safely enter the surf.

A few nests are not found on the Texas coast at egg laying and thus incubate at the nest site (in situ). Since these nests are not protected, they typically have a lower survival rate than protected nests.
Public Hatchling Releases at Padre Island National Seashore


Each year, the public is invited to attend 15-25 of the releases of hatchlings that emerge from eggs cared for at the Padre Island National Seashore incubation facility. These releases are open to the public free-of-charge and are held at the northern end of the National Seashore, typically in front of the Malaquite Beach Visitor Center. Releases begin at about 6:30-6:45 am.
Hatchling releases are extremely popular with the public. Thousands of people attend each year. Local citizens attend in large numbers, as do visitors from out of town.


How to Attend a Hatchling Release


Hatchling release dates and times depend on when the nests hatch and the hatchlings become active and ready for release. Visitors coming from out of town to attend a release are encouraged to select dates when several nests are due to be released, so that if turtles from some nests go into their frenzy during the middle of the night and have to be released, there will still be turtles from other nests available for the public release. As the projected release dates that you are interested in near, call the recorded Hatchling Hotline at (361) 949-7163 for the latest information on the release date, time, or location.
Projected Release Dates for Kemp's Ridley Sea Turtle Nests Held in the Incubation Facility at Padre Island National Seashore - 2015
| | |
| --- | --- |
| Nest number(s) | Projected release sometime between |
| 2 | June 11-16 |
| 3, 6, 8 | June 14-19 |
| 10-12, 14-16 | June 20-25 |
| 17 | June 21-26 |
| 18-23, 26-27 | June 24-29 |
| 29-30, 32, 34-35, 39, 41, 43 | June 25-30 |
| 47, 48, 50 | June 26-July 1 |
| 52 | June 29-July 4 |
| 54, 56, 59 | July 1-6 |
| 60, 61, 62, 64 | July 2-7 |
| 68, 72 | July 5-10 |
| 73 | July 6-11 |
| 74, 75 | July 8-13 |
Note that not all clutches are released during the public releases, and public releases do not occur daily. Hatchlings are released when they become active. When this occurs unexpectedly or in the middle of the night, the public cannot be invited to the release. Due to these factors, it is much more likely that a public release will be held on a day when several clutches are due to hatch and be released at the same time.