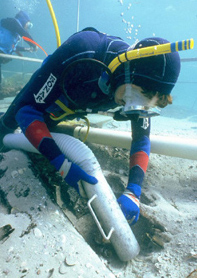 NPS Photo
The first documented visit by Europeans was in 1554 when three ships were blown off course by a storm and shipwrecked near the present-day Mansfield Channel. The ships (the San Esteban, the Santa Maria de Yciar, and the Espiritu Santo) had been carrying colonists, cargo, and treasure from Vera Cruz to Spain. Of the approximately 300 passengers and crew onboard, thirty are believed to have sailed one of the ship's boats back to Vera Cruz under the command of Francisco del Huerto. They were to report the wrecks and begin rescue and salvage operations; however, those left at the wreck site were not so lucky. A chance meeting with local natives, which began peacefully, turned into a battle. The remaining survivors then began to walk back to Vera Cruz. Only two are known to have survived the trek, and the rest were either killed by native peoples or died from thirst or starvation.
A salvage crew traveled from Vera Cruz to recover the gold and silver that had been lost in the wreck. They recovered most of the treasure and what little remained has probably been collected by treasure hunters and archaeologists since then. Unlike the survivors of the wrecks, the salvage crews did not encounter any hostile natives.
The salvage crew was headed by Garcia de Escalante Alvarado, and salvage operations lasted from July 23 to September 12. Alvarado's arrival was preceded by Angel de Villafane, who arrived in June with a small unit of soldiers to protect the site of the wreck from looters from the (nearest) villages of Panuco and Tampico. Villafane stayed on the island until the end of operations and ultimately returned to New Spain with Alvarado.
At the wreck site, Alvarado and Villafane found that only the superstructure of the San Esteban was visible. The Santa Maria de Yciar and Espiritu Santo were completely submerged and had to be located by dragging a chain. At the end of the operations, Alvarado recorded 29,075 pounds of silver and 22,000 pesos (in gold and silver, with one peso equaling about one ounce in weight) recovered. Also found were other articles, including clothing, utensils, cargo, and other items.
In 1558, the Spanish crown commissioned a man named Martin Lavezares to take a small fleet and scout the Gulf coast between Vera Cruz and Florida, in order to establish colonies and outposts to protect Spanish interests in the region. The first stop he made was on the Texas coast at the latitude of present-day Kingsville, Texas. This is the same latitude as present-day Malaquite Beach. Lavazares did not attempt to establish a settlement here, so the stop may have been simply to explore the island or to search for fresh water or other supplies.