Take a guided walking tour or tune in to the free app.

Join us for a guided tour at 11AM and 3PM on weekends thru 10/26. Meet us at the Alexander Hamilton statue at 72 McBride Avenue. Interested in a self-guided opportunity? Download the free app. Learn more about both options and we'll see you soon. More »
Only one portion of the park is closed - Mary Ellen Kramer Park

Due to a landscape improvement project, a section of the park, Mary Ellen Kramer Park, and the pedestrian bridge crossing the chasm is closed. Project may be completed early in 2015. The Great Falls can still be viewed at Overlook Park, 72 McBride Ave.
People in Partnership with Nature
A Stroll Through History - The Paterson Great Falls Orientation Tour
Appropriate for adults and families.
Educators, please call 973-523-5295 to discuss your needs.


WHEN: 11:00 AM and 3:00PM Saturday and Sunday through October 26th.


WHERE TO MEET: Meet at the Alexander Hamilton Statue at Overlook Park, 72 McBride Avenue, Paterson, NJ 07501
The story of Paterson and its Great Falls demonstrates that the natural and cultural diversity of the area helped fuel the economic and social growth of a young nation. Join a member of the Great Falls Youth Corps, a National Park Ranger or Volunteer for this 45-minute to 1-hour, 1-mile walk. Discover how the natural world inspired a founding father, entrepreneurs, immigrants, poets and artists to build the nation's first industrial city and changed the world. In most cases, tours will be conducted rain or shine, however, tours will be canceled in cases of severe weather, such as snow storms, nor'easters, dangerous electrical storms, etc.
Please wear comfortable and weather-appropriate clothing/shoes. The walk will be on along paved and unpaved paths with uneven footing. Guided tours led by the National Park Service, or its designees, can follow paved, wheelchair-accessible routes (assistance may be required, especially along narrow city sidewalks). If you have any concerns or questions, please contact the park at 973-523-5295.
The tour route travels through parts of the Great Falls Historic District, which is administered by the City of Paterson, and includes visitor facilities such as the Paterson Museum and the Great Falls Historic District Cultural Center. If you have questions regarding these facilities, please call the Paterson Museum at 973-321-1260 Tuesday - Sunday (except holidays).
Additional programs may be scheduled as staffing permits. Please call the park before your visit at 973-523-5295 Monday-Friday or ask a Youth Corps member, volunteer or NPS Staff when you arrive (Monday-Friday).
Please Note: From late fall through late spring, reservations are required for all guided tours. Please call 973-523-5295 at least two weeks before your visit.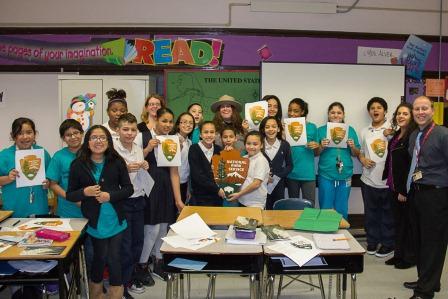 George Garbeck
Educators - Looking for a Special Field Trip to Support Your Lessons? Consider a Guided Program with a Park Ranger!


If you interested in bringing your learners to the Paterson Great Falls, or you would like to invite a Park Ranger into your classroom, please call Ranger Ilyse at 973-523-5295 to schedule a program (programs range from 15 minutes to 1.5 hours).
Programs include:
Introduction to the National Park Service (NPS) (pre school - Grade 3)
The important role Paterson and the Passaic River played in the development of the country
Ask about pilot programs on the following topics:


Earth Science
Physics is Phun
Ecology
Alexander Hamilton and the economy


Want to help with lesson plan design? Please contact Ranger Ilyse for details.
Did You Know?

The city of Paterson was named for William Paterson, the governor of New Jersey who signed the charter for S.U.M.? The city was named before a site for it was chosen! More...