Mary Ellen Kramer Park Closure Announcement from the City of Paterson

Due to landscape improvement project, the City of Paterson closed Mary Ellen Kramer Park, landing & footbridge on November 4, 2013. The project may be completed by end of 2014. Falls can be viewed from Overlook Park. Call 973-321-1212 for project info.
Plan Your Visit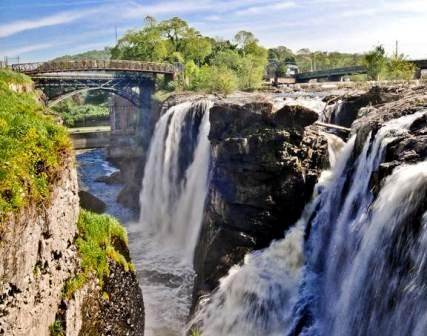 Copyright Adali Rosario
Waterfalls and ancient geology, engineering landmarks and the economic birth of a new nation - these are just a few of the things you will discover on your visit to the City of Paterson and the Paterson Great Falls National Historical Park.

Learn more...
Guided walking tours and special programs
Paterson Museum on 2 Market Street (within walking distance of the park)
Self-guided tour using this free app/cell phone tour "mill mile" .
Stay for lunch, sample the local cuisine of the Great Falls Historic District, within walking distance of the park.
Afterwards, spend some time visiting local and thematically related sites:
Ivanhoe Artists Mosaic; 4 Spruce Street, Paterson, NJ
Art Factory; 70 Spruce Street, Paterson, NJ
Lambert Castle; 3 Valley Road, Paterson, NJ
American Labor Museum (Botto House); 83 Norwood Street, Haledon, NJ
Accessibility
The Great Falls Historic District is accessible with assistance. Learn more…
Did You Know?

Samuel Colt was an early Paterson business owner? From 1836 until 1842, his gun mill produced about 5,000 guns. A lack of government contracts was a major factor in his failure in Paterson. He later achieved success in his hometown of Hartford, Conn., with the outbreak of the Mexican-American War.