Interested in Reserving a Tour

Are you planning to visit Paterson Great Falls this winter? If so, plan ahead and make a reservation in advance for the free orientation tour - A Stroll Through History. More »
Mary Ellen Kramer Park Closure Announcement from the City of Paterson

Due to landscape improvement project, Mary Ellen Kramer Park, landing & footbridge will be closed on November 4, 2013. The project may be completed by end of 2014. Reservations for NPS programs will still be taken. Falls can be viewed from Overlook Park
Plan Your Visit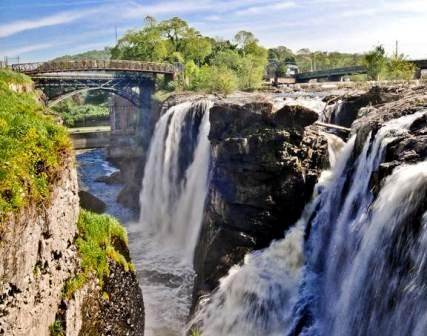 Copyright Adali Rosario
Waterfalls and ancient geology, engineering landmarks and the economic birth of a new nation - these are just a few of the things you will discover on your visit to the City of Paterson and the Paterson Great Falls National Historical Park.

Learn more...
Guided walking tours and special programs
Paterson Museum on 2 Market Street (within walking distance of the park)
Self-guided tour using this free app/cell phone tour "mill mile" .
Stay for lunch, sample the local cuisine of the Great Falls Historic District, within walking distance of the park.
Afterwards, spend some time visiting local and thematically related sites:
Ivanhoe Artists Mosaic; 4 Spruce Street, Paterson, NJ
Art Factory; 70 Spruce Street, Paterson, NJ
Lambert Castle; 3 Valley Road, Paterson, NJ
American Labor Museum (Botto House); 83 Norwood Street, Haledon, NJ
Accessibility
The Great Falls Historic District is accessible with assistance. Learn more…
Did You Know?

Alexander Hamilton, founder of Paterson, faced great opposition to his ideas for an industrial America? Many government leaders, including Thomas Jefferson, believed the new nation should base its economy, and could grow powerful, through agriculture – growing what it needed and selling the surplus.