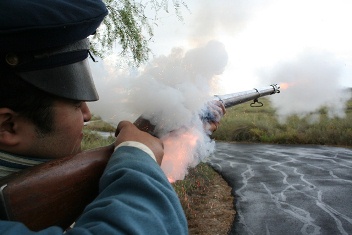 NPS (public domain)
Special events & programs
The special event and program season kicks off in September with Living History. Programs are held once a month from September through May. Living History programs are dependent upon weather, so check with the park for the most up to date information.
Guided tours
December 1st to April 1st
Palo Alto offers guided tours of the park as well as the Resaca de la Palma Battlefield Unit, and the Fort Brown earthworks. Tours allow visitors to walk these sites and learn extra details about the causes of the war, why a battles occurred here, and how the clashes developed.
2014-2015 Special Events & Programs (PDF 0.98 MB)