Road Maintenance

Maintenance on parks roads and parking areas will begin Monday, September 1st and will continue through Friday, September 5th. Access to roads and parking areas may be limited at times. Call the park for the latest on road and parking conditions.
March Into The Past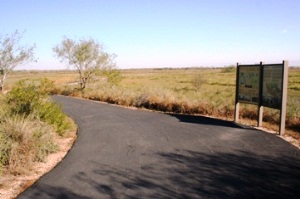 Palo Alto Battlefield (public domain)
Take a Walk on the Historic Side
Palo Alto Battlefield offers a half-mile walking trail connecting the visitor center to a battlefield overlook. As you make your way down the trail, you will find interpretive waysides and rest areas. The battlefield trail is open from 8:00 a.m. to 4:30 p.m. every day of the week.
Explore Further
Once on the battlefield, you will find additional trails leading you out onto the Mexican and U.S. battle lines. You can actually stand on the spot where U.S. and Mexican soldiers stood on that fateful May afternoon in 1846. Flags on the north and south ends of the field represent the positions of General Taylor's and General Arista's armies.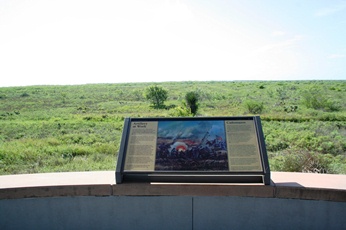 Palo Alto Battlefield (public domain)
South Texas Gem
A boardwalk behind the overlook takes you along a resaca bed-an ancient remnant of the Rio Grande. This resaca bed played an important role in the battle of Palo Alto and also provides visitors with an opportunity to see a resaca bed in its natural state.
In fact, walking the trail offers visitors the chance to experience the sights and sounds of one of the few remaining areas of relatively untouched South Texas brush land.
All of Palo Alto's walking trails are paved and fully accessible. So come on out and enjoy the park and its trails.
Did You Know?

Mexican cannon used at Palo Alto and captured at Resaca de la Palma were taken to the U.S. Military Academy, where they remain on display in the ballroom of Cullum Hall.