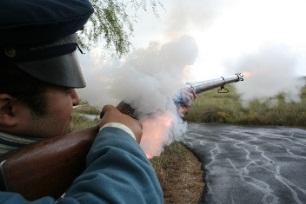 NPS
History comes to life
Attend a living history program at the park and Immerse yourself in a unique learning experience. Chat with living historians wearing replica Mexican War era uniforms and equipment. Smell the burnt black powder at our musket and artillery demonstrations and listen to stories of the Battle of Palo Alto and the Mexican War.
Program info
The park's Living history season runs from September through May. Programs are usually held on the first Saturday of month. Programs are held outdoors and are dependent upon weather, so dress accordingly.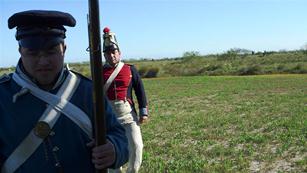 NPS
A uniform appearance
See firsthand what Mexican War era military uniforms looked like. Re-enactors wearing replica 19th century U.S. and Mexican military uniforms and equipment are present at every program. Many visitors are surprised at how different Mexican War era military uniforms were compared to modern ones.
A colorful bunch
General Taylor's Army took to the field mostly wearing various shades of blue with different color piping. General Arista's Army was much more colorful. His regiments took to the field of battle in red, blue, white, and yellow amongst other colors. Uniform color was important during this time. It served as a means to distinguish on regiment or branch of service from the other.
Both armies' uniforms were mainly comprised of heavy wool coats and trousers. Since the battle was fought in the South Texas heat of May, it must have been exhausting.
Have a feel for yourself. You can usually find extra uniform coats at the living history camp. Try one on and get a feel for what it was like to be a Mexican War era soldier.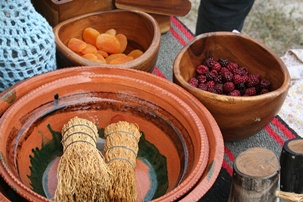 NPS
Camp life
Get a glimpse at life in a Mexican War era military camp. Visit the camp kitchen to see how soldiers ate while on campaign.
Pull up a chair and sit in on a game of Monte. Or watch soldiers perform marching and musket drills. Palo Alto's living history program is aimed at providing visitors with an engaging historical experience.
We're looking for you!
The park is always looking for new living historians. Those interested should contact us at (956) 541-2785 x324.
NPS