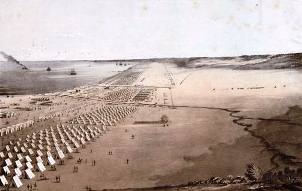 Library of Congress (no known restrictions)
Tensions mount
The advance of U.S. troops and Polk's new demand that Mexico sell its New Mexico and California territories infuriated Mexican President Joaquin Herrera, who refused to meet with the American envoy.
But Herrera's willingness to allow the envoy into Mexico brought about his downfall. In December of 1845, General Mariano Paredes y Arrillaga overthrew Herrera, installed himself as President, and vowed to discuss nothing but the return of Texas.
Polk continued to exert pressure. In January 1846, he ordered General Taylor to claim the Rio Grande as the U.S. boundary.In March, Taylor led 4,000 troops to the river's edge, across from the Mexican city of Matamoros, and began construction of Fort Texas, the earthen fieldwork that would serve as a U.S. base.