Special Events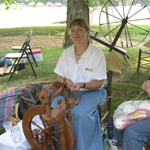 Bill O'Donnell
O
zark National Scenic Riverways hosts a variety of Special Events each season. These may change from year to year, so watch this space for our latest offerings
. Details will be posted here as planning progresses. (Dates subject to change) For more information, call 573-323-4236
As of this time, Ozark Heritage Day, Alley Spring Independence Day Celebration, and Ozark Dinner Theater events are cancelled due to Government budget cuts. Please watch this page for future details or changes.

"What makes a river so restful to people is that it doesn't have any doubt-it is sure to get where it is going, and it doesn't want to go anywhere else." - (Hal Boyle)
Did You Know?

Blue Spring is 310 feet deep. If the Statue of Liberty was standing on the bottom, the top of her torch would be underwater! It is widely considered to be the most beautiful spring in Missouri due to its vivid blue color. More at www.nps.gov/ozar More...