Closings and service reductions due to Federal Budget Cuts announced.

The public will experience reduced hours and services provided by Ozark National Scenic Riverways due to the budget cuts that became effective March 1, 2013. Please check back often for further details or changes. List of closed facilities, click "MORE." More »
Special Events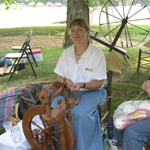 Bill O'Donnell
O
zark National Scenic Riverways hosts a variety of Special Events each season. These may change from year to year, so watch this space for our latest offerings
. Details will be posted here as planning progresses. (Dates subject to change) For more information, call 573-323-4236
*CANCELLED: Old Fashioned Christmas at Alley, December 7 from 10:00 am to 1:00 pm. Enjoy cookies, cocoa and cider as we make traditional Christmas ornaments you can take home and hang on your tree. Fun for kids of all ages! Alley General Store. FREE.

Archery Managed Deer Hunt at Big Spring. December 13 - 15, 2013. Help us control the deer population at Big Spring.Details
Owl Prowl
at Alley General Store, February 13 at 5:30 pm. Join us for a walk in the winter woods in pursuit of owls. Dress warmly, and all children must be accompanied by an adult. Free.
As of this time, Ozark Heritage Day, Alley Spring Independence Day Celebration, and Ozark Dinner Theater events are cancelled due to Government budget cuts. Please watch this page for future details or changes.

"What makes a river so restful to people is that it doesn't have any doubt-it is sure to get where it is going, and it doesn't want to go anywhere else." - (Hal Boyle)
Did You Know?

"Shut Ins" are an Ozark term for small canyon-like areas where water and rock struggle. Ozark National Scenic Riverways' Rocky Falls is the best known in the park, but there are several more in less easily accessible areas such as near Klepzig Mill. More at www.nps.gov/ozar More...