Alley Mill Closed for Renovations

The Alley Mill will be undergoing renovations much of summer of 2014. It will be open daily through Aug 17 and then only on weekends after that. There will be fencing around the Mill which will prevent close access. More »
Special Events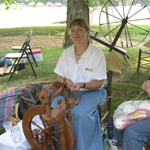 Bill O'Donnell
The Haunting in the Hills, October 11 at Alley. Enjoy storytelling, music and craft demonstrations on the grounds at Alley. During the daylight hours we'll have old time games and toys for kids, live music, demonstrations of rope making, apple butter, soap making, woodworking and all the other skills necessary for daily life on the old Ozark frontier. After dark we'll have storytelling, historic skits and the ever popular graveyard walk. There will be food available for purchase, or bring a picnic. A blanket or lawn chair might be a good idea for the evening events.

Employee Reunion, October 12 at Big Spring. All employees, concessionaires, and volunteers who have worked at the park over the years are invited to get together to talk over old times and celebrate the park's 50th anniversary. Details.
Wounded Warrior Hunt at Big Spring. November 8 & 9, 2014. As a thank you to all our wounded warriors for the service and their sacrifice, we are inviting you to a special hunt at Big Spring. Details.
Archery Deer Hunt at Big Spring, December 12- 14. Pre-registration is required. Read all the details here.

"What makes a river so restful to people is that it doesn't have any doubt-it is sure to get where it is going, and it doesn't want to go anywhere else." - (Hal Boyle)
Did You Know?

The Ozark hellbender is one of two species of hellbender, a giant salamander, in the United States. Ozark National Scenic Riverways is one of the few places on earth home to the Ozark species. More at www.nps.gov/ozar More...