Alley Mill Closed for Renovations

The Alley Mill will be undergoing renovations much of summer of 2014. It will be open daily through Aug 17 and then only on weekends after that. There will be fencing around the Mill which will prevent close access. More »
Special Events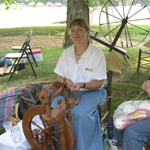 Bill O'Donnell
O
zark National Scenic Riverways hosts a variety of Special Events each season. These may change from year to year, so watch this space for our latest offerings
. Details will be posted here as planning progresses. (Dates subject to change) For more information, call 573-323-4236
Missouri A Living Portrait
will be shown August 15 at the Big Spring Campground Amphitheater at 8:30 p.m. Enjoy this film from the 1960s about the cultural heritage of Missouri. Free.
Ozark Riverways' 50th Anniversary Celebration! Has it really been fifty years of protecting these wonderful rivers? Join us to celebrate on Saturday August 23 at 6:00 pm at the "Depression Cabin" at Big Spring. There will be live bluegrass music and a presentation on the history of the Ozark Riverways. The very same cabin that Tricia Nixon Cox spoke from when she dedicated the park! FREE.

Current River Bluegrass
will perform August 30 at Pulltite Campground Amphitheater at 7:00 pm. Bring something to sit on. Free!

The Haunting in the Hills, October 11 at Alley. Enjoy storytelling, music and craft demonstrations on the grounds at Alley.
Employee Reunion, October 12 at Big Spring. All employees, concessionaires, and volunteers who have worked at the park over the years are invited to get together to talk over old times and celebrate the park's 50th anniversary. Details.
Wounded Warrior Hunt at Big Spring. November 8 & 9, 2014. As a thank you to all our wounded warriors for the service and their sacrifice, we are inviting you to a special hunt at Big Spring. Details.
Archery Deer Hunt at Big Spring, December 12- 14. Pre-registration is required. Read all the details here.

"What makes a river so restful to people is that it doesn't have any doubt-it is sure to get where it is going, and it doesn't want to go anywhere else." - (Hal Boyle)
Did You Know?

Cane brakes are thick stands of rivercane, which is much like bamboo. The endangered Swainson's Warbler nests in these thickets. Many stands have been lost to reservoir impoundments throughout the South, but many stands are protected at Ozark National Scenic Riverways. More at www.nps.gov/ozar More...