Lodging Around the Park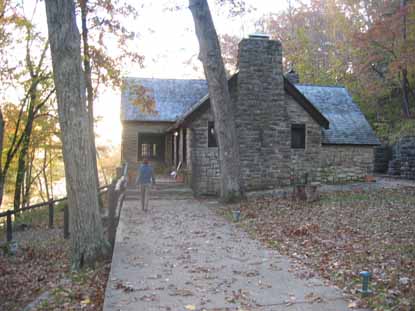 Big Spring Dining Lodge
Open mid-March through September 10, daily from 8:00 am to 8:00 pm. Will close for the season September 10, 2006.
Visit their website.
Phone 573-323-4423


Enjoy a fine dining experience overlooking the beautiful Current River at the Big Spring Lodge. The historical building was constructed in 1932 by the Civilian Conservation Corps. (There are exhibits about the CCC nearby.) The lodge serves three meals a day and prices range from $2.99 to $23.95.
Big Spring Cabins
Fourteen rustic cabins built by the CCC. Accomodates 2 - 8 people. Feature one or two bedrooms and include bath, stove, microwave, coffee maker, toaster, refrigerator and small outside grills. Screened in porches. Some have air conditioning. Rates from $55.00 - $110.00.
Call 573-323-4423 for reservations. Restaurant nearby. Cabins are available mid-March through November 30, one cabin is available year round. Visit their website.
Other Lodging Outside the Park
Outside the park, there are numerous small motels, cabins and bed & breakfast establishments to meet your needs. Contact the Chamber of Commerce in the appropriate community for a list.
A brook can be a friend in a special way. It talks to you with splashy gurgles. It cools your toes and lets you sit quietly beside it when you don't feel like speaking." - (Joan Walsh Anglund)
Did You Know?

Blue Spring is 310 feet deep. If the Statue of Liberty was standing on the bottom, the top of her torch would be underwater! It is widely considered to be the most beautiful spring in Missouri due to its vivid blue color. More at www.nps.gov/ozar More...