Closings and service reductaions due to Federal Budget Cuts announced.

The public will experience reduced hours and services provided by Ozark National Scenic Riverways due to the budget cuts that became effective March 1, 2013. Please check back often for further details or changes. List of closed facilities, click "MORE." More »
Traditional Craft & Skills Demonstrations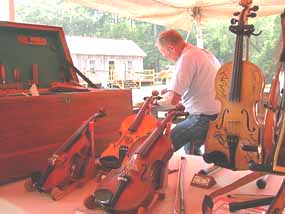 National Park Service
As of this time, Heritage Day, Alley Spring Independence Day Celebration, Ozark Dinner Theater, and Haunting in the Hills events are cancelled. Please watch this page for future details or changes.

The park will host a variety of fun and educational events that bring back the voices of the Ozarks frontier. Enjoy demonstrations of traditional skills, nibble some hoe cake, listen to down home Bluegrass music or learn to spin or make lye soap. Watch this site for details.


Did You Know?

"Shut Ins" are an Ozark term for small canyon-like areas where water and rock struggle. Ozark National Scenic Riverways' Rocky Falls is the best known in the park, but there are several more in less easily accessible areas such as near Klepzig Mill.
More at www.nps.gov/ozar More...