Closings and service reductaions due to Federal Budget Cuts announced.

The public will experience reduced hours and services provided by Ozark National Scenic Riverways due to the budget cuts that became effective March 1, 2013. Please check back often for further details or changes. List of closed facilities, click "MORE." More »
Management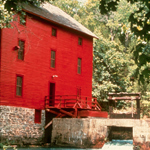 National Park Service Economic Contribution to Missouri

Economic Impact of National Parks (look in the Appendix for Ozark NSR's contribution to the local economy)
Employment (Link to site listing open positions in the Ozark Riverways as well as other Federal agencies.) PLEASE closely follow the instructions found with the announcements as to how to apply! If it calls for a transcript, or a letter or other document, your application may be rejected if it is not included.
Career Tips
(Suggestions for people looking at natural resources as a career. Has websites for jobs as well as "Ranger Schools.")
---
"If there is magic on this planet, it is contained in water. "- (Loren Eiseley, "Four Quartets," in The Immense Journey)


Did You Know?

About 1.5 million people come to Missouri's Ozark National Scenic Riverways each year. Most come to canoe, but many also enjoy hiking, horseback riding, camping and fishing. More at www.nps.gov/ozar More...