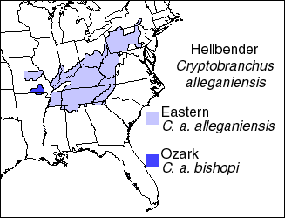 Courtesy USGS
Why are they disappearing?
The Ozark Hellbender is listed as a candidate species for the federal endangered species list because populations are declining throughout its range in the Ozarks, particularly over the last twenty years. The hellbender population is also getting older with little indication of consistent reproduction. There is a lack of juveniles in the population, which indicates that reproduction may have been limited for some time. Scientists are working to understand why the population is declining and what is causing this lack of reproduction. Hellbenders have very specific habitat requirements, which makes the species extremely vulnerable to habitat disturbance and changes in water quality.
What can you do to help?
In the past, hellbenders were often thought of as dangerous, poisonous, or even deadly, but in reality they are shy, harmless animals that are an important part of the Ozarks river systems. If you see a hellbender, leave it alone and consider yourself very lucky for getting a glimpse of this rare species.
Hellbender Links:
Back to