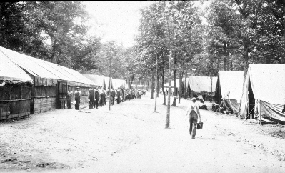 Approximately 55% of all enrollees came from the rural communities of the country, and 45% from the cities. Camp life was far different from anything the enrollees had experienced. Many were away from home for the first time and were holding their first steady jobs. To urban youths the sudden transfer to a remote wilderness camp was a real culture shock. In addition, camp life was regimented; the enrollees had to follow a standard routine. No longer would he roam the streets of his hometown or the backwoods of his farm, or "ride the rails" in search of work. On the other hand, while pay of a $30 a month was hardly lavish, he did have some income for himself and was earning money for the family back home. ($25 of the pay was sent directly to the enrollee's family.) Most of the boys enrolling in the early days were underweight and undernourished. They gained an average of 11¼ pounds in their first three to four months in the CCC.
The CCC at Ozark National Scenic Riverways
In 1933, the National Park Service established CCC camps of mostly young men at both Alley Spring and Big Spring state parks. During the first year at Alley, the CCC workers built eleven buildings and two roads through the park. They installed a new floor in the historic Alley Mill and planted many trees in the park. The Alley Camp was one of many nationwide that was built for World War I veterans.
The CCC workers at Big Spring completed extensive work on the park's infrastructure. They built four and one-half miles of gravel road from the spring to the boundary of Big Spring State Park and another eight miles of road throughout the park. An access road was laid out from the highway to the CCC camp. They fitted a pump in the spring to provide the camp and the public campgrounds with water. They hung a telephone line from the refuge to the spring. They also removed debris and cleared a two hundred acre picnic and recreation area near the spring and another twelve acres for new campgrounds. They built a flood control dike system, a latrine, a picnic shelter, a fire tower, several cabins, a garage, and a custodian's home.