Frequently Asked Questions
---
Is this a state or national park?
Many people are surprised to learn that the Ozark National Scenic Riverways is a national park, just like Yellowstone or Gettysburg. The three largest campground areas, Alley Spring, Big Spring and Round Spring all used to be Missouri State Parks and some people still refer to "Alley Spring State Park," which adds to the confusion. These three places stopped being "State Parks" in 1969 when the people of Missouri generously donated them to the federal government as the anchors for the new Ozark National Scenic Riverways. They were essentially the gift of Missouri to the nation.

---
How big is Ozark National Scenic Riverways?
The park stretches for some 134 miles along both the Jacks Fork and Current Rivers. Except for the towns of Eminence and Van Buren, and the area south of the Ripley County line, most of the land on both banks of the rivers is national parkland. There are still a few small private holdings, and some areas of state land along the banks as well. About 80,785 acres are held in trust for future generations' enjoyment of nature.

---
How do I rent a canoe?
Call or visit any of the canoe rental companies operating in the park. You can see their websites by clicking here. They are all regulated by the National Park Service and have similar rates and services. Most will drop you off and pick you up when your trip is finished. The easiest way to plan a trip is simply to tell them how long you want to float and let them plan a nice route for you. Most areas of the rivers are equally attractive, but some may have low water or other issues. The canoe rental staffs are up to date on all such conditions.

---
How do I make camping reservations?
To make reservations at Alley, Big Spring, Round Spring go to www.recreation.gov or call 1-877-444-6777. Reservations are recommended in the summer months.

---
What about Group Camping?
Group campsites that can accommodate up to 45 people are available at Alley, Big Spring, Round Spring, Pulltite, Two Rivers and Akers. Go to www.recreation.gov or call 1-877-444-6777 for reservations.

---
Can I rent a Picnic Shelter?
To make picnic shelter reservations at Alley, Big Spring, Round Spring go to www.recreation.gov or call 1-877-444-6777.

---
What makes the spring water so blue?
The water from our springs carries a load of dissolved limestone. This gives a bluish tint. The deeper the water, the more blue, which is why 310 foot deep Blue Spring is the darkest shade. A sunny blue sky enhances the color, while an overcast one diminishes it. Muddy run-off after stormy weather can turn the spring water brown for days at a time, but fear not, blue will be back soon. More about springs.

---
Can I hunt in the park?
Hunting is permitted in the park under Missouri regulations and seasons. Most people hunt deer and turkey, but small game such as rabbits and squirrels are also to be found. A valid Missouri hunting license is required. Hunting is not permitted in developed areas such as campgrounds, around houses and other similar areas.
---
How about fishing?
Fishing is allowed within Missouri regulations and seasons. A valid Missouri fishing license is required. Fishing is not permitted in springs or spring branches.
---
Can I ride my horse in the park?
There are several bridle trails in the Two Rivers area and more are being developed. Please do not ride in water any longer than absolutely necessary. There are ranches and "trail ride" establishments in the Eminence and Salem areas that offer organized trail rides.
---
Is alcohol permitted in the park?
Persons of legal age are welcome to drink responsibly on the river and in campgrounds. Underage drinking, drunk driving, loud, lewd or obnoxious behavior will not be tolerated and violators will be prosecuted fully under federal law. "Beer bongs" are prohibited. Glass containers are prohibited on the river. The same laws apply in the park as outside regarding public intoxication.

---
Can I ride my ATV in the park?
Yes, but... ATVs are only allowed on county-owned roads with a valid permit. There are no ATV trails. No off-road travel and travel in streams or the river is prohibited. ATV infractions will be strictly prosecuted. For more details, click here.
---
Are there places to swim?
Because we do not have lifeguards on duty, there are no officilaly designated swimming areas. You may swim, at your own risk, anywhere on the rivers, except in the immediate vicinity of busy boat landings, the Akers Ferry and in springs and spring branches. Jumping from rocks or using rope swings is prohibited due to the number of serious injuries and deaths each year.
---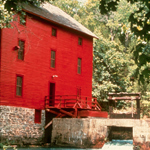 Alley Mill FAQ
Where's the wheel?
This is the most common question asked at Alley. The answer is that there never was a wheel! When the mill was built in 1894, wooden waterwheels were already obsolete. The mill has a water powered turbine under the back porch that operates all the machinery and is "original equipment." Alley History
---
But I remember a wheel!
Perhaps you are thinking of War Eagle Mill near Branson? It is very similar, bright red, three stories tall and in a parklike setting. It is older than Alley and has a picturesque wheel. Other old red mills have wheels as well, but unless you remember the first Alley Mill, which burned down in the early 1890s you haven't seen a wheel at Alley.
---
When is the Mill open?
The Alley Mill is open daily in the summertime, from Memorial Day to Labor Day weekends. Depending on our budget and staffing, the National Park Service tries to keep it open on weekends from about Easter to Memorial Day and on fall weekends through the Fall Color season. Call for exact dates: 573-226-3945
---
Who built the Alley Mill and when?
George Washington McCaskill built the mill in 1894. The small village around the mill was named for an early settler, John Alley, but he didn't own the mill. The mill was never very successful as a business and went through about a dozen owners, so many folks can claim family connections to this beautiful landmark. Alley History
---