Alley Mill Closed for Renovations

The Alley Mill will be undergoing renovations much of summer of 2014. It will be open on weekends ONLY in July. There will be fencing around the Mill which will prevent close access. We are working to protect and preserve the Mill for the future. More »
Blue Spring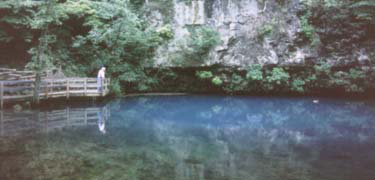 Bill O'Donnell
There are two "Blue Springs" in the park and several more with that name statewide. The smaller Blue Spring on the Jacks Fork River is a river access and primitive campsite. The spring is small and across the river from the road access.
Called "Spring of the Summer Sky" by Native Americans, the more famous Blue Spring is on the Current River and is one of the most beautiful places you'll ever find, anywhere. The spring itself is over 300 feet deep, one of the deepest in the United States.This gives it a vivid blue color that one must see to believe.
The spring is reached by a short trail which abounds with wildflowers in spring and fall colors in autumn.
While completely surrounded by National Park Service land, Blue Spring itself is owned by the Missouri Department of Conservation.
Blue Spring is 16 miles east of Eminence or 16 miles west of Ellington off of State Route 106. A long dirt road leads to the parking area from the state highway, and it is very steep. It is not recommended for large RVs or buses, although in most weather a normal passenger car can make it quite well. From the parking lot it is about 1/4 mile walk down a pleasant trail. You can also walk from the Powder Mill Campground, about 1/2 mile.
To view some of the interpretive exhibits at Blue Spring, click here:
Trailhead exhibit
Wayside exhibit
Did You Know?

Blue Spring is 310 feet deep. If the Statue of Liberty was standing on the bottom, the top of her torch would be underwater! It is widely considered to be the most beautiful spring in Missouri due to its vivid blue color. More at www.nps.gov/ozar More...