There are two main scenic drives in Organ Pipe Cactus National Monument. Both of which start from the Kris Eggle Visitor Center located at mile marker 75 on Hwy 85, in the southern portion of the monument.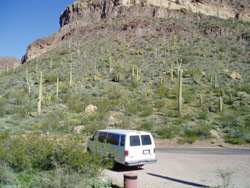 Craig, NPS Volunteer
The Ajo Mountain drive is a 21 mile, well maintained, gravel road suitable for passenger cars. This drive is probably the highlight for most of our visitors. However it is not suitable for motorhomes over 23 feet, due to its twisting and dipping nature. The free Ajo Mountain Road Guidebook is available in the Kris Eggle Visitor Center.
The other drive is the North Puerto Blanco drive. It stretches out 5 miles to touch the heart of our wilderness area. At the end of the road, you will find a beautiful picnic area, perfect for watching the sunset off the Ajo Mountains.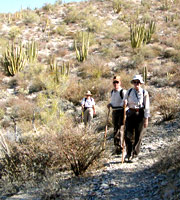 Don Dirks, NPS Volunteer
From strolling to strenuous, there are miles and miles of hiking trails in Organ Pipe Cactus National Monument, and even more opportunities to explore our wilderness areas. Stop by the Kris Eggle Visitor Center to get more information on all your hiking options.
Bicycles are welcome on any of the open roads in the monument. Please keep in mind that most drivers are looking at our beautiful scenery and not watching for bicycles, so please bike defensively.
There is no public transportation to, from, or around the monument.