Phone System is Not Working

Currently the park's phone system is not functioning. Please email sue_walter@nps.gov with questions and request for information.
Schedule Of Events
Search for Events
Sorry, but there are no events between 09/01/2014 and 10/01/2014
Ranger Programs are typically offered in January, February, and March. There are some programs scheduled in April 2014. Check with the visitor center 520-387-6849 x7302 for more details.
Find events in the town of Ajo.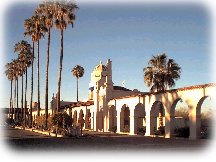 courtesty Ajo Chamber of Commerce
The town of Ajo, 34 miles north of the Kris Eggle Visitor Center, always has something going on. Check out their community calendar to learn more about what might be happening while you are visiting.


Did You Know?

Kangaroo Rats are masters at desert survival. They get all the moisture they need from the seeds and plants they eat and don't need to drink any water. Their kidneys are so powerful at recycling the moisture they do get from plants and seeds, they have been known to urinate crystals. More...