Increased Fire Restrictions, Effective June 5 Until Further Notice

Due to increase fire danger and dry conditions, all fires (charcoal, coal, and wood) are prohibited. Cook stoves and lanterns are still allowed. Smoking is limited to enclosed vehicles.
Schedule Of Events
Search for Events
Sorry, but there are no events between 07/02/2014 and 08/01/2014
Ranger Programs are typically offered in January, February, and March. There are some programs scheduled in April 2014. Check with the visitor center 520-387-6849 x7302 for more details.
Find events in the town of Ajo.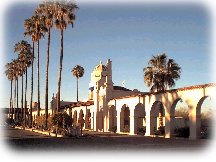 courtesty Ajo Chamber of Commerce
The town of Ajo, 34 miles north of the Kris Eggle Visitor Center, always has something going on. Check out their community calendar to learn more about what might be happening while you are visiting.


Did You Know?

Most of the year this night-blooming cereus cactus looks like ugly brown sticks, but for one night only the flower opens and smells like a rose. To see one bloom is one of the greatest treats in the Sonoran Desert