Schedule Of Events
Search for Events
Sorry, but there are no events between 09/13/2014 and 10/01/2014
Ranger Programs are typically offered in January, February, and March. There are some programs scheduled in April 2014. Check with the visitor center 520-387-6849 x7302 for more details.
Find events in the town of Ajo.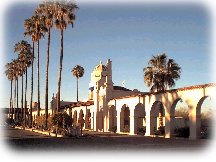 courtesty Ajo Chamber of Commerce
The town of Ajo, 34 miles north of the Kris Eggle Visitor Center, always has something going on. Check out their community calendar to learn more about what might be happening while you are visiting.


Did You Know?

The Sonoran Pronghorn is a critically endangered species that calls Organ Pipe Cactus National Monument home for part of the year. With less than 60 animals left in the United States, our wilderness provides important habitat for this beautiful animal's survival. More...