Schedule Of Events
Search for Events
Sorry, but there are no events between 10/26/2014 and 11/01/2014
Ranger Programs are typically offered in January, February, and March. There are some programs scheduled in April 2014. Check with the visitor center 520-387-6849 x7302 for more details.
Find events in the town of Ajo.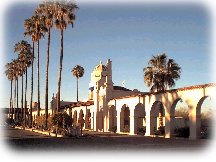 courtesty Ajo Chamber of Commerce
The town of Ajo, 34 miles north of the Kris Eggle Visitor Center, always has something going on. Check out their community calendar to learn more about what might be happening while you are visiting.


Did You Know?

It's not easy, practical, or legal to get "water" from a barrel cactus within the Monument. Even if you tried to get past the spines, it would be like sucking on a bad-tasting dish sponge. The best thing to do is fill a canteen with good drinking water before leaving home.