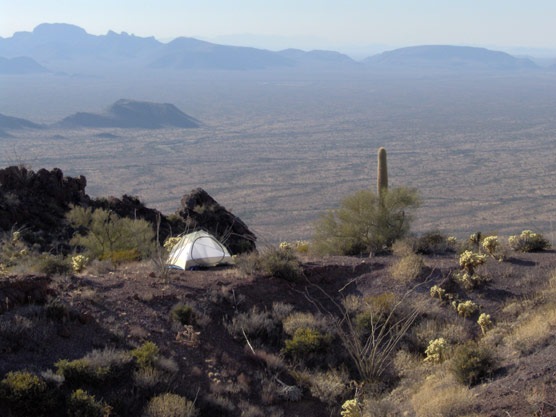 Dean Myerson, visitor
Due to an increase in illegal border activity, all backcountry areas are closed indefinitely to both hiking and overnight camping. Please check with the staff at the Kris Eggle Visitor Center for current information.
We anticipate this will be a temporary closure, though we are not certain when we can expect areas to reopen.
Those in search of adventure would do well to consider hiking in Organ Pipe Cactus National Monument's extensive wilderness. It is not for faint of heart. There are no trails and no camping places designated in our wilderness, the routes are yours to discover. The sunsets, star-scapes, and sunrises can be yours alone. All it takes is a couple gallons of water, good boots, a map, a compass, some food, a sleeping bag and a way to carry it all on your back. Oh, and you need to stop at the Kris Eggle Visitor Center for a permit, just so we know where you are going.
Permits cost $5 and there are staff willing to help you plan your hike. Some areas of the monument are closed to overnight use. (Let's face it, we are on the Mexican border and that can be problematic for those looking for nighttime solitude). Other areas are wide open, with very little chance of having to share your moments with anyone else.
For those of you who like to plan ahead. Look to the Ajo Mountains, north of the Bull Pasture for excellent backcountry opportunities. If you'd like to get your hands on a topographic map before you come, check out this link to our bookstore