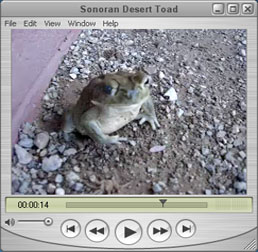 ---
The Sonoran Desert Toad (Bufo alvarius) is a very large, and for most visitors unexpected, resident of the Sonoran Desert. During monsoon season these toads can often be spotted near watering holes or just hopping alongside the road at night. This toad was hanging out by the front door of the Visitor Center. She was not shy, and when the camera turned on, she was ready for her close-up!
Quicktime Movie (2.08Mb)
Bonus Movie (1.18Mb)
-Watch the toad inflate to look bigger as its sides are rubbed. Listen closely to the sound track to get a feel for the texture of the toad's skin. Warning: Do not handle Sonoran Desert Toad unless you know what you are doing. Their warts and glands secrete a toxin that is strong enough to kill a dog!