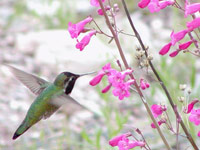 Don Dirks, NPS Volunteer
While visiting this page, be sure not to miss our frequently updated wildflower gallery!
The desert wildflower season is always unpredictable. A good flower season requires early winter rains followed by a warm and unusually wet spring. Regardless of the intensity of the flower season there is almost always something blooming from February through May, from brittlebush in late winter, to giant saguaros in late spring.
Mexican Poppies
Lupine
Owl Clover
Bladderpod Mustard
Tackstem
Globemallow
Brittlebush
Creosote
Saguaro
Organ Pipe
Pincushion