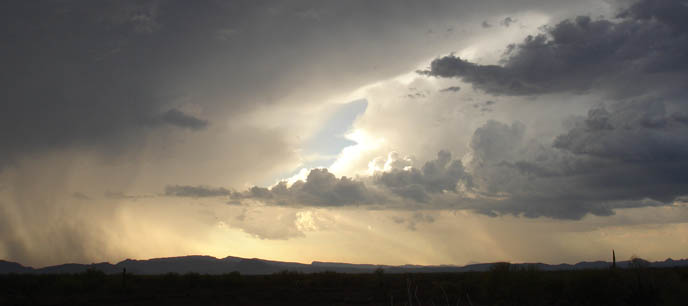 NPS Photo
Monsoon 2012
Monument employees and visitors witnessed two major flood events in larger canyons of the Ajo Range during the 2012 monsoon. The first occurred on August 16 when 2.3 inches fell in early afternoon west of Tillotson Peak, joined by 2.8 inches in Alamo Canyon in mid-late afternoon. During the second and larger event that peaked on September 10, flood waters at both the culvert at mile 66.5 and bridge at Alamo Wash overtopped Highway 85 and several sections of backcountry road were left impassable. This flood was the culmination of six continuous days of rain in the Ajo Ranger, which began on September 6 and lasted until September 11.
Flood waters in Alamo Wash scoured a large extent of the adjacent floodplain and uplands, removing large trees and saguaro cacti that were hundreds of years old. A substantial portion of the flow overtopped the Alamo Wash floodplain and flowed through a pass in Tillotson Ridge and into the wash at mile 66.5. The park invited researchers from the Arizona Geological Survey and US Geological Survey's Arizona Water Science Center to evaluate and measure the discharge of the flood, which allows comparisons of flood sizes between different regions and time periods. Researchers Jeff Cordova, Chris Smith, and Stephen Wiele calculated the total discharge at 17,600 cubic feet per second. For the Alamo Wash basin, there is a 0.2% probability that this would occur in any given year (also known, somewhat misleadingly, as a 500-year flood; however, not this does not mean this type of flood occurs at regular 500-year intervals, just that it is a relatively rare event on human time scales).
So take a look at a moderate-sized desert wash in the Monument on your next visit, and imagine it briefly turning into, or even exceeding, the Colorado River! Desert flooding can be so deceptive and almost unimaginable when looking at a dry arroyo, but evidence of past flash flooding is everywhere around us! Visitors were lucky to witness such a dramatic event.
Sonoran Desert Pronghorn Research
Section still under construction
Organ Pipe Flora
Due to advances in plant genetic research and new finds, plant taxonomy (the classification and study of plant family and species relationships) is undergoing massive revisions. Sonoran Desert botanists Richard Felger (Sky Island Alliance), Sue Rutman (retired Organ Pipe botanist), Jim Malusa, and Tom Van Devender (Sky Island Alliance) recently published a series of six articles on the flora of the "Dry Borders" area, which includes the many changes applicable to plants found at Organ Pipe.
For more information check out:
An Introduction to Southwestern Arizona Flora
Checklist of Southwestern Arizona Plants
For more than a decade, human traffic related to the U.S. - Mexico international border has impacted natural resources in the Monument. A comprehensive research program with partners Todd Esque, Ken Nussear, Bob Webb, and Rich Inman at the U.S. Geological Survey measured impacts on soil and plant communities across the Monument.
Click here to read their report
For more information on border impacts in the Monument, please visit the State of the Park Report for Organ Pipe.