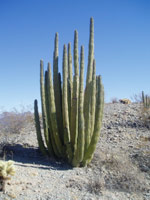 NPS Volunteer
Cacti of the Monument
There are 28 different species of cacti in the monument, ranging from the giant saguaro to the miniature pincushion. These cacti are all highly adapted to survive in the dry and unpredictable desert. They use spines for protection and shade, thick skin and pulp to preserve water, unique pathways of photosynthesis at night, and hidden under their skin are delicate to sturdy wooden frames holding them together.
Day or night, the summer display of many different cactus blooms is one of the desert's flashiest spectacles, as the brilliant flowers of yellow, red, white, and pink bring color to the landscape. It is a show upstaged only by the springtime explosions of gold poppies, blue lupines, pink owl clover, and other annuals after a wet winter.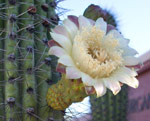 Andy Fisher, NPS photo
The more common cacti species found within Organ Pipe Cactus National Monument include:
Organ Pipe (Stenocereus thurberi)
Saguaro (Carnegiea gigantean)
Senita (Lophocereus schottii)
Chain Fruit Cholla (Opuntia fulgida)
Teddy Bear Cholla (Opuntia bigelovii)
Engelmann's Prickly Pear (Opunita engelmannii)
Hedgehog (Echinocereus species)
Pincushion (Mammillaria species)
Arizona Barrell (Ferocactus wislizenii)
NPS photo

1 Photos

Students learn about nature while having an overnight experience in Brooklyn.